With people continuing to leave their jobs in record numbers, employers are taking a closer look at strategies for attracting and retaining staff. Millions have been submitting their resignations every month, and nearly three out of four full-time employees (74%) say they plan to quit their jobs in 2022. These statistics, which were revealed in a recent survey by Joblist of 20,000 workers across the U.S., underscore the fact that employee dissatisfaction is rampant. In a February 2022 Forbes article, Joblist CEO Kevin Harrington observed that "with the rise of remote work and interviewing, it's never been easier for employees to switch jobs in search of greener pastures." 
One tactic some employers use to increase retention and attract new talent is by beefing up and diversifying their training programs. There is mounting evidence that helping workers expand their job skills provides mutual benefits. From an employer perspective, training produces employees who are more qualified, productive, and engaged. Since many staff members appreciate career development opportunities, they perceive training as a worthwhile benefit.
Employees who feel like they're stagnating in their jobs will eventually begin looking elsewhere for new challenges. These days, it seems to be happening sooner, rather than later. To stem the tide of "The Great Resignation," many companies are offering expanded training programs, personal development courses, and advancement opportunities that appeal to applicants as well as current employees.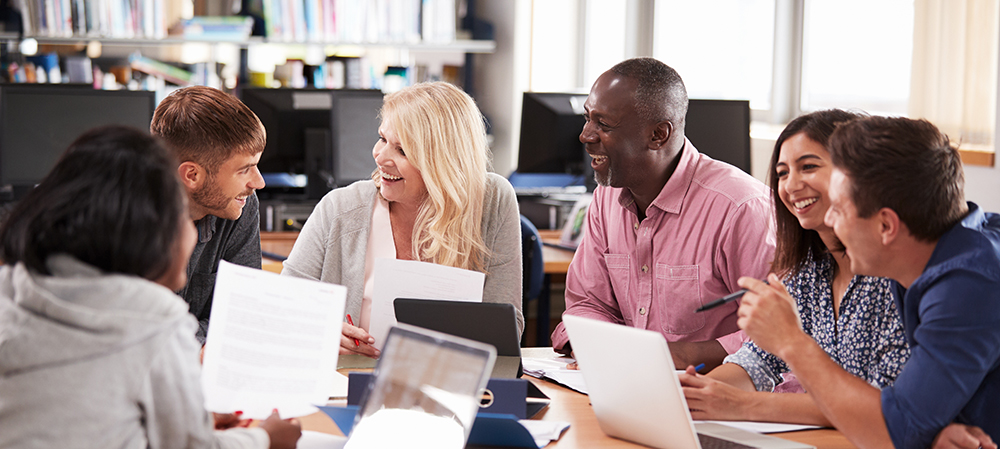 Why Employees Love Skills Courses
While compensation and benefits packages often top the list of reasons employees decide to leave or stay in a company's employment, a lot of other factors come into play. Providing team members with a positive overall experience, for example, contributes to job satisfaction, loyalty, and a feeling among staff that they're on the right track. Training gives employees more confidence in their abilities, fuels career advancement goals, and makes them feel like they matter to the organization.
According to a poll conducted by SurveyMonkey, 86% of employees say that job training is important to them, although only 52% think their employer provides the right amount of training. When asked about learning preferences, 65% of the respondents said they prefer watching videos to gain new skills and knowledge. Attending lectures and presentations was cited as the second most popular method (55%) for professional development.
How Learning and Development Can Be Used in Recruiting
An article in Entrepreneur points out that "training dollars can often be overlooked in a benefits package, so highlight the value of personal development as you recruit for team members." According to author, executive coach, and keynote speaker Ken Gosnel, the ideal approach to offering training opportunities is to have it consist of a combination of corporate-mandated and personal choices. "When a team member understands they have a voice in how they grow," he says, "it can often be the differentiator when they have more than one job offer."  
The Most Popular Online Courses to Market in a Benefits Package
Whether you're looking to fill an entry-level position or middle management job, motivated applicants will take notice of opportunities that include career-related training. Candidates with the greatest potential are already aware of their strengths and weaknesses and will be eager to acquire skills they're lacking–especially if it's part of an employment package. By offering relevant and useful training to new employees, you'll be gaining a competitive edge in what has become a tight labor market.
Online video courses which teach marketable, in-demand skills include the following:
Microsoft Excel 365:
Beginner: Whether employees want to pursue a job managing people, projects, operations, or programs, Microsoft Excel 365 is an essential tool they'll need. MS Excel is also an indispensable software tool for office administration, performance reporting, and doing business analysis. Making this course available to personnel would enable them to begin mastering the many uses and functions of Excel. In addition to learning how to create spreadsheets and formulas, this series of video tutorials walks viewers through data formatting techniques and data entry practice exercises.
Intermediate: KnowledgeCity's intermediate-level Excel course is geared to employees who have completed the beginner course or already know the basics. This series of user-friendly tutorials focuses on important skills like adding charts, developing expertise with table features, and getting a grasp of other Excel functions and security features.
Advanced: Once employees have successfully completed this series of video lessons, they'll have gained the advanced skills needed to leverage Microsoft Excel 365 for virtually any business or personal objective. This advanced-level course will strengthen skills in data management, using pivot tables, and exchanging Excel data with other programs. Whether trainees are interested in learning Excel for an accounting role, budgeting purposes, or financial reporting or forecasting, our advanced course in Microsoft Excel 365 will get them there!
KnowledgeCity also offers an extensive library of other online video courses which can upgrade and expand your team's skill sets. Here are a few examples of our most popular and useful online courses:
Communication: This business course offers a series of valuable lessons on enhancing public speaking skills, handling difficult conversations, and understanding how to use the "three Vs" of communication. This set of tutorials will help employees recognize non-verbal cues that impact the way messages are interpreted and responded to. 
Critical Thinking Skills: Decision-making ability is crucial for managers, project leaders, and management candidates. This video course focuses on fundamental aspects of sound decision-making, such as learning to ask complex questions, evaluating relevant data, and cultivating good judgment. The critical thinking skills covered in these lessons will help your staff handle more responsibility, minimize mistakes, and develop solid leadership skills.
Time Management: Time is that precious commodity that seems to slip away when interruptions happen or too much attention is paid to unproductive tasks. Fortunately, through awareness, prioritization, and the use of specific techniques, efficiency and productivity can be significantly increased. This video course focuses on the skills, habits, and strategies your staff can put into practice to get more done, eliminate time-wasting activities, and meet deadlines or production quotas with greater ease and consistency.
Customer Service: For many businesses and organizations, excellent customer service distinguishes them from the competition. Earning a client's loyalty and good will is often as simple as helping them solve a problem or understand their options. To accomplish this, customer service departments need to have employees who are patient, well trained, and resourceful. With that in mind, KnowledgeCity has created a series of tutorials that address these crucial topics. Designed to help employees easily learn the principles of outstanding customer service, these lessons focus on the importance of using active listening skills, understanding customer needs, knowing how to negotiate mutually acceptable solutions, and solving problems in a diplomatic way. This course teaches problem-solving techniques for call center representatives and employees dealing with customers in a face-to-face environment.
Interpersonal Communication: Miscommunication is one of the most frequent causes of lost business, disgruntled customers, public relations issues, and employee frustration. Providing staff with training in effective communication techniques strengthens leadership skills and provides team members with valuable guidelines for preventing and resolving problems. Learning interpersonal communication skills is also beneficial to improving the quality of working relationships in your office, department, or business.
Marketing Strategies: Although marketing is a fundamental aspect of the growth and success of virtually all companies and organizations, many employees think marketing is just sales and advertising. Not only does effective marketing involve much more than those two areas, but it has changed and branched out quite a bit over the past decade. Fortunately, the learning curve for marketing is relatively easy. Our video course in marketing will bring your staff up to date on the most effective tools and techniques in marketing strategy implementation. This series of informative tutorials will also familiarize your marketing team with vital concepts like product positioning, the role of e-commerce, and the difference between "push marketing" and "pull marketing."
Achieve Your Training Goals with KnowledgeCity
Our well-established global learning and development organization offers users a turnkey learning management system (LMS) that features the following advantages:
You gain access to our more than 20,000 video tutorials on everything from leadership strategies and project management to team building and customer service excellence.
We offer online courses designed to help employees and managers reach their skill development goals, increase productivity, and enhance engagement.
Our learning library also includes vital topics such as workplace safety, compliance training, and diversity awareness.
To provide your company with relevant, up-to-date video courses, we add new tutorials to our learning library every month.
KnowledgeCity's courses are written by college professors and industry experts, so you can count on us for video lessons that are authoritative, accurate, and relatable.
Our tutorials are engaging, convenient to use, and presented in a format that helps employees easily grasp and remember the information.
With more than 15 years of experience in the eLearning industry, we have the expertise, subject matter experts, and expanding catalog of professional development tutorials that your organization needs to meet its training, onboarding, and employee retention objectives. 
Contact us today for a free demo and trial access to our immense learning library of in-demand training tutorials.