If you haven't thought about "the future of work" lately, now is the time. The phrase is used by HR thought leaders who want to stay a step ahead of current work trends to prepare their organizations.
The future of work is, broadly, how work will get done in the next decade or so, and who–or what–will be doing it. It's an important step to prepare organizations for changes in how jobs are managed. For example, past analysis of the future of work has prepared businesses for more automation in the workplace, more open office plans, new ways of measuring performance, and much more.
Today's future of work analysis must confront a particularly large number of changes in the workplace. The pandemic brought a wave of remote work situations, the Great Resignation, new concerns about how companies spend their budgets, and other trends that are reshaping the HR landscape. Let's go through the most important changes HR leaders should prepare for.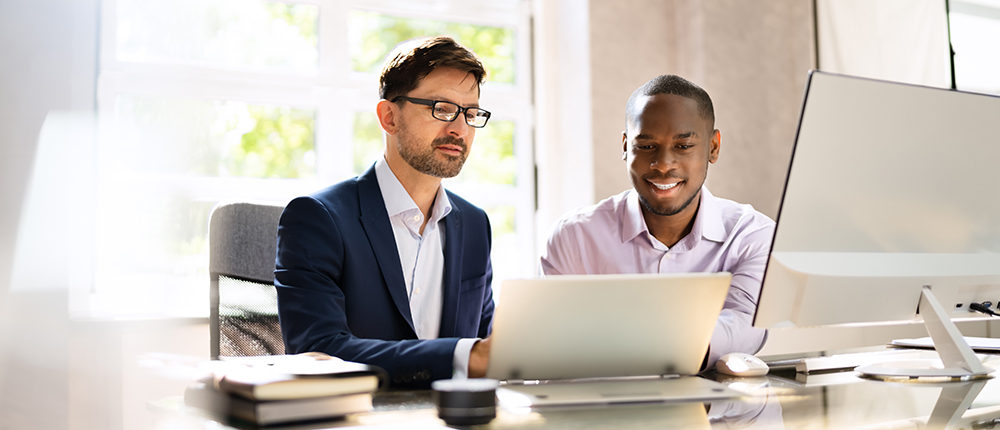 Embracing Hybrid Work Styles
Organizations of all sizes are currently choosing strategies for remote work and work from home opportunities. The COVID-19 pandemic created a wave of new remote positions as businesses sought ways to enforce social distancing. Today's online technology, from Zoom to Teams, was proven to be up to the task of enabling remote work for all kinds of teams, and a new paradigm was swiftly born. With a sufficient internet connection and the ability to complete tasks with a computer, remote work became a viable option across all kinds of industries.
As pandemic restrictions began to wane, companies had to make choices about what to do with their remote work setups, a process that continues to this day. Employees were largely supportive of remote work: It allowed them to be closer to their families, save on gas and commutes, while productivity did not appear to suffer for most organizations. Employers voiced concerns about communication difficulties, and the ability to monitor employee performance outside of an office.
Now organizations are facing a choice: What sort of remote work should be allowed going forward? A hybrid work solution has become a common arrangement, but the question is just what ratio of work from home should be supported. Companies like Spotify and Twitter, for example, allowed employees to choose freely and work from anywhere they wanted, with Twitter going so far to say that employees may work from home forever.
Permanent remote work requires shifts in how companies manage employees, which also means changes for HR. That includes dependence on digital communication (and the digital recordkeeping that goes with it), as well formalizing apps and tools that have proper security measures. The rise of remote work also affects talent acquisition: When given a choice between an employer that offers full choice in a hybrid workplace, and one where a return to the office is required, employees almost always choose the option with remote work options.
Reimagining Hierarchies
Remote work and pandemic work situations had another impact that will be felt for years to come – the problem of what McKinsey's study The New Possible refers to as "a hierarchy that solves for uniformity, bureaucracy, and control." In the post pandemic workplace, this approach is no longer as efficient or effective as it has been in the past.
That means organizations should start to reconsider the hierarchy it uses to manage its workforce. This includes routing decisions to those with the talent to make them (something we'll touch on more below), and redefining what management looks like. New models are becoming more adaptable and less reliant on specific roles. Remote work has shown that certain management tasks can be automated, giving businesses the opportunity to flatten their organizations and disrupt past hierarchies. The resulting changes are more productive and more enjoyable for employees.
Planning Company Positions Based on New Criteria
HR can also expect a shift to viewing employees as more versatile "talent" rather than strictly pigeonholed "labor." Identifying and utilizing employee talent will start to become a new priority. Once talent is identified, the goal will be to move employees to value-driving roles where that talent is best used (something that is also more rewarding for the employee). This will create new models where organization positions are more fluid, and employees more easily moved between positions based on their talent profiles.
This new talent outlook should also make certain development processes easier for businesses to accommodate, like mentoring and training. HR will find a new role in fostering position-flexible talent, while also looking for applicants who will be able to fit well into this new, versatile model.
Finding Ways to Maintain or Create Equity
In late 2021, Gartner released new HR research from a large survey that showed 82% of employees reported that their working environment lacked fairness. Only 18% reported that they worked in a "high fairness" environment. HR departments will be grappling with this problem in the coming decade, searching for ways to create fairness and equity in the workplace. Employee misgivings about their organizations today can include topics like: 
Being forced to work in a situation they don't like (such as returning to the office, as mentioned above).
Having to relocate for personal reasons, then having their compensation cut while doing the same job in a different area.
Finding that new employees are being hired at higher compensation rates than they currently receive.
Dealing with hierarchical payment systems where compensation appears to be rewarded based on position, not the amount of value created for the company.
Being expected to work extra hours that regularly interfere with their personal lives.
Targeted resources where only certain types of employees receive certain benefits.
Issues like these are very difficult, and it can seem like HR is navigating a minefield when addressing them. While HR departments can only advocate for top-down changes to address these issues long-term, there are other approaches that can help. Gartner indicates that HR should attempt to: 
Practice information transparency. This includes providing information equally across the entire workforce, and explaining the reasoning behind company decisions that affect employees. Around 70% of employees have reported they would choose one job over the other based on how transparent the business was.
Create support systems at work. Most employees in the survey reported that they do not feel they get the support they deserve. That especially includes support for mental and physical well-being, including understanding the toll that some tasks can take on employees, and providing solutions for these issues.
Make employees feel considered when new positions open up. Many employees feel that open positions are filled ahead of time without considering potential promotion from within the company. HR can focus more on internal referral programs and other solutions to consider current qualified employees.
Acknowledge and reward the work that employees do, beyond their stated compensation. Employees like to feel openly acknowledged for their contributions, but only around 25% of workers do according to Gartner's latest surveys. This has also increased as a problem with the rise of hybrid workplaces, where managers have reported to Gartner that they favor on-site employees and are more likely to promote employees working on site. Part-time and remote employees are much less likely to feel acknowledged for the work they do as a result.
Rethinking Communication
Many of the subjects covered so far–hybrid workplaces, flattening organization hierarchies with new agile models, filling talent gaps–require a new look at how organizations communicate. In the coming years, HR should consider working with other key departments like IT to find communication solutions that are ready for the next decade.
There is no single app or tool that can solve communication issues at work, but employees should be able to readily contact their teams, peers in other departments, and management. They should not be afraid to use communication tools to ask important questions, offer valuable information, or relate their experiences. Current team apps and workflow tools are embracing more fluid forms of communication to help with this (as we've seen with the rising use of Microsoft Teams and Zoom), but it's also a rapidly evolving space that deserves attention.
Reinventing Performance Management
Performance management in the 2020s has a problem: It doesn't really work. In a recent McKinsey Global Survey, half of the respondents said that performance management has not had a positive effect on employees or overall performance at their organizations. Older techniques like performance reviews aren't making much of a difference these days.
McKinsey's survey indicated that performance management could be improved with several changes. Those include steps like: 
Decoupling compensation discussions from performance management
Creating systems for ongoing coaching from managers
Aligning employee goals directly with business priorities instead of minutiae 
Creating a Plan for Upskilling
Fostering versatile talent in an agile organization also requires upskilling, or putting systems in place to train current employees with new or updated skills so they can achieve more within the company. This has also become key to address rapid skill gaps as companies continue to deal with a changing world. Upskilling is more comprehensive than traditional employee training, and includes concepts like: 
Peer coaching instead of management-only coaching
Learning networks where peers can rapidly share information regardless of distance, and access company-wide resources to immediately learn more
Nudging techniques that gradually push employees to try new tools and learn valuable new skills
Using the "Mass personalization of change" to implement organization-wide changes by have individual employees change or adapt
Further Resources
When narrowing down changes to make for the future of work, it's often best to start nearby. HR can test changes to its communication structure, hierarchy, and more within its department. These localized updates can make it easier for HR to gauge the impact, and recommend that specific changes go company-wide.

To learn more about how the HR world is changing, you can review courses offered by KnowledgeCity. Our HR classes cover the latest technology and trends, and can serve as guides to finding specific solutions about the future of work in your organization. We add new courses every month to stay current, ensuring our eLearning services provide value for years to come.