As an HR professional, you're probably already familiar with the importance of creating a great first impression for your employees. However, when it comes to virtual meetings, there are certain factors that can make or break the meeting experience for both you and your team members.
There's no denying the convenience of online meetings. For many organizations, virtual meetings are the only way to effectively communicate with employees and customers around the world. This is especially important considering that 34% of private-sector employers have embraced remote work, per a  U.S. Bureau of Labor Statistics (BLS) report.
But what about those who aren't comfortable using technology in a meeting environment? Is it possible to have a successful virtual presentation without relying solely on PowerPoint?
If you're planning an online meeting, you might be worried that it will be difficult to engage participants and keep them interested. This doesn't have to be the case.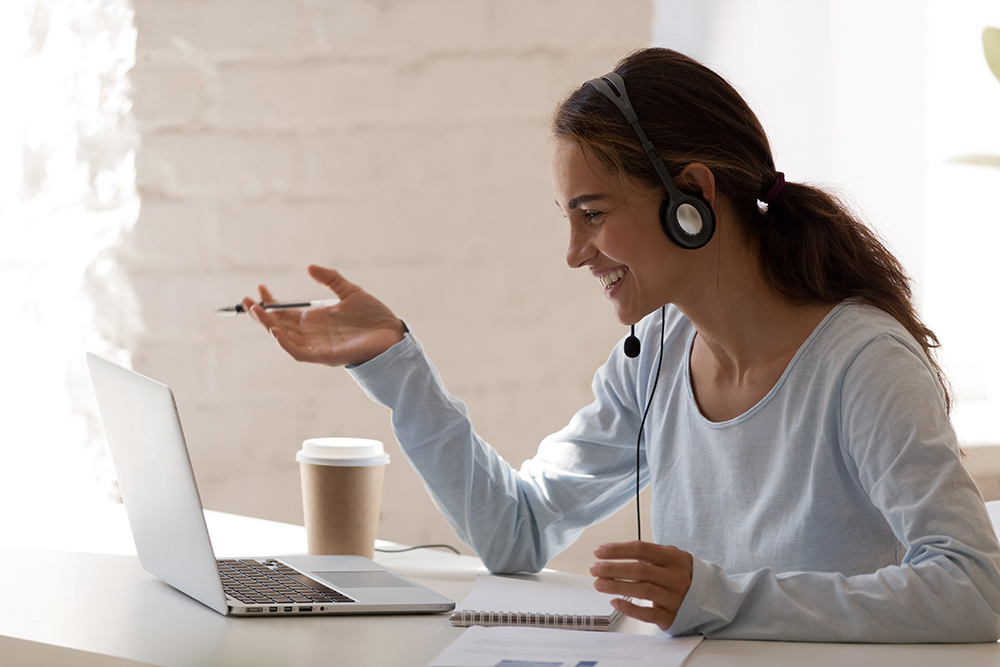 Preparing Your Online Presentations
Preparing your online presentation is an important step in the virtual HR meeting process. You'll need to make sure that you have all of your materials ready to present, and you'll want to make sure that they are organized and easy to find.
The following are some tips for preparing your online presentation:
Analyze Your Audience
Before designing a presentation or developing any other materials, it's important to analyze your audience.
Who will be viewing your presentation? Are they new hires? Experienced employees? Or both?
If you're giving a presentation on company policy, then it's likely all of these audiences will be present. But if you're presenting during a training session, then it's likely only new hires will be watching. Once you know who will be viewing your presentation, you can determine how much information is appropriate for each group.
Explore Virtual Meeting Software 
Many companies have already implemented a virtual meeting solution into their workflow. But if yours hasn't yet, there are plenty of options available today that make it easy to host meetings from anywhere at any time.
The first step is identifying what you need from your virtual meeting platform. Do you want people to share their screens? Do you need video conferencing capabilities? Is voice quality important? These questions will help you determine what platform will work best for your needs.
Some platforms only allow one person at a time to share their screen, while others allow multiple participants to do so at once. If this feature is important to you, look for one with this capability. You will also want to consider whether or not it supports video conferencing and whether or not there is a mobile app available, if either of these features will matter for the success of your meeting.
Visualize Success
The visualization technique is one of the best practices for online presentations. Imagine yourself giving an effective presentation and visualize yourself making eye contact with each member of your audience as well as demonstrating confidence in your message. This will help you feel confident and ready when it comes time for the meeting.
After all, the more prepared you are, the easier your presentation will be.
Building Your Online Presentation
Establish Your Purpose
Before you begin creating your online presentation, take some time to think about why you're giving it in the first place—what do you want people to walk away with? This way, you'll be able to structure your presentation accordingly and make sure it includes all of the information that's needed to achieve its purpose.
For example: If you're presenting guidelines for how employees should dress at work, then include examples of acceptable dress as well as unacceptable dress items.
Decide How to Be Interactive
The most effective online presentations are interactive. Therefore, you should first decide how you want to be interactive. You can go with a purely audio-visual presentation, where you speak the entire time. Or you can use slides, which allow you to highlight key points and make it easier for your audience to follow along.
If you choose slides, remember that people will be watching on their screens, not in person. This means that it's even more important than usual to keep your slides simple and easy to read—no tiny text or complicated graphics!
Next, consider what kind of information you will include in your presentation. Will it be text only? Or will there be audio clips? Videos? Images? Make sure the form of media you choose is appropriate for the audience, well-edited or formatted, and easy to understand.
Finally, think about how long your presentation will be—this will help determine how much time you have available for questions at the end. If you think your meeting will take 30 minutes, schedule it for an hour. If it runs longer than expected (which is common), you won't have to worry too much about wrapping things up. It's better to have extra time than not enough.
Use Multimedia to Optimize Engagement 
People like visuals, so use images and videos where appropriate. If the content allows it, consider adding sound effects or music. Using images and video helps engage your audience, making them more likely to remember your presentation's key points.
Giving Your Online Presentation
Personal Presence and Location
A virtual meeting is not an excuse to ignore personal communication skills. The more you can incorporate personal gestures, the better. This includes eye contact, facial expressions, and body language—all of which are difficult to convey through text or audio alone. If it's possible, try to include as much video as possible in your presentation so that everyone involved can see each other's faces during the conversation.
Tone of Voice and Inflections
Attendees will pick up on your tone of voice and inflections even if they cannot see your facial expressions or body language. It's important to maintain a professional tone throughout the presentation so that people feel comfortable asking questions or making suggestions. 
Be careful not to speak too quickly or too slowly—this can make you seem rushed or unprepared when you are, in fact, you are perfectly prepared.
Additionally, when speaking online, it will not be easy for others to quickly correct any mistakes or mispronunciations, so you must speak clearly and slowly enough so that everyone can hear what you're saying.
It also helps if you take pauses between points so that people have time to process what they've heard before moving on to the next point.
Standing or Sitting
One way to make sure your presence is clear is by standing or sitting at an angle where your upper body can be seen by the camera.
If standing is not an option due to health reasons or other constraints, sitting behind a table or desk can help convey authority and professionalism. You also want to avoid sitting too close to the camera so that you don't appear too big on the screen.
A good rule is to have at least twice the distance between yourself and the camera as you would if you were standing in front of it.
Background and Lighting
You want to make sure that your background is not distracting in any way. If there are distracting objects behind you, move closer or move to a different location. 
You should also be aware of the lighting in the room where you will be presenting. If the lights are too bright or too dim, adjust them before starting your presentation. Some people even use a green screen to eliminate distracting backgrounds such as windows or doors.
Talk to the Camera
When you're presenting in person, it's easy to forget that most people are watching you instead of what's on the screen behind you. There's no hiding behind a podium or turning around to look at the screen in a virtual HR meeting. 
It's also easy to get distracted and start speaking to the screen rather than talking directly to the person on the other end of the line. Do your best not to do this—if you have trouble remembering, try imagining that you're talking directly into their eyes.
It can be hard for someone on the other end of a video call to see whether or not you're making eye contact with them, so it helps if you use your webcam as well as whatever software is capturing your image. You may not notice yourself looking down at your notes or other documents, but others will see it clearly.
Utilize Effective Repetition
One of the best ways to make sure that everyone is paying attention is through the use of effective repetition.
Repetition is a common tool used in presentations and speeches because it helps keep your audience's attention. It also helps make sure that certain points stick with them long after the presentation ends. The secret here is to understand how repetition works best so that you can use it effectively during your virtual meeting.
One way to make sure that your audience understands what you're saying is by repeating yourself as much as possible. For example, if you start off by saying, "we value your contributions," say it again later on in the meeting when talking about how important employees are as a resource for solving problems. Then mention again how valuable each employee is when discussing ways for team members to improve their skills and knowledge base. 
By repeating key points over and over again during your presentation, you will ensure that everyone leaves with an understanding of what you're trying to communicate to them.
An effective way to use repetition is by using multiple visuals such as charts or graphs that illustrate points you are making verbally. For example, if you are giving a presentation about customer service metrics, include a chart that shows how many calls were handled each day over a period of time so that employees can visualize how well they performed over time.
The Bottom Line
Virtual HR meetings are a great way to stay connected with all your remote employees. You can use these meeting times to discuss company updates, employee goals, and performance reviews. These meetings are also a great time to provide feedback and coaching.
Virtual HR meetings can also help a company save time and money. You can attend the meeting from anywhere, and you won't need to worry about traveling or getting stuck in traffic. 
If you haven't been part of a virtual meeting before, it can be difficult to know how to prepare and what to expect. Fortunately, this Virtual Presentations course can help you improve your virtual presentation skills.