6 Internship Program Best Practices (Plus, How to Get the Most From Your Interns) 
What comes to mind when you hear the word "intern?" Often, people associate internships with unpaid, tedious, and menial work. But it doesn't have to be that way. 
Internships are mutually beneficial, providing the intern with a learning experience and giving you extra help. When you hire an intern, you need to create a program that benefits them. And if you find quality candidates, they can serve your company now and in the future. 
But to do this, you'll need to build an effective internship program that attracts high-quality talent.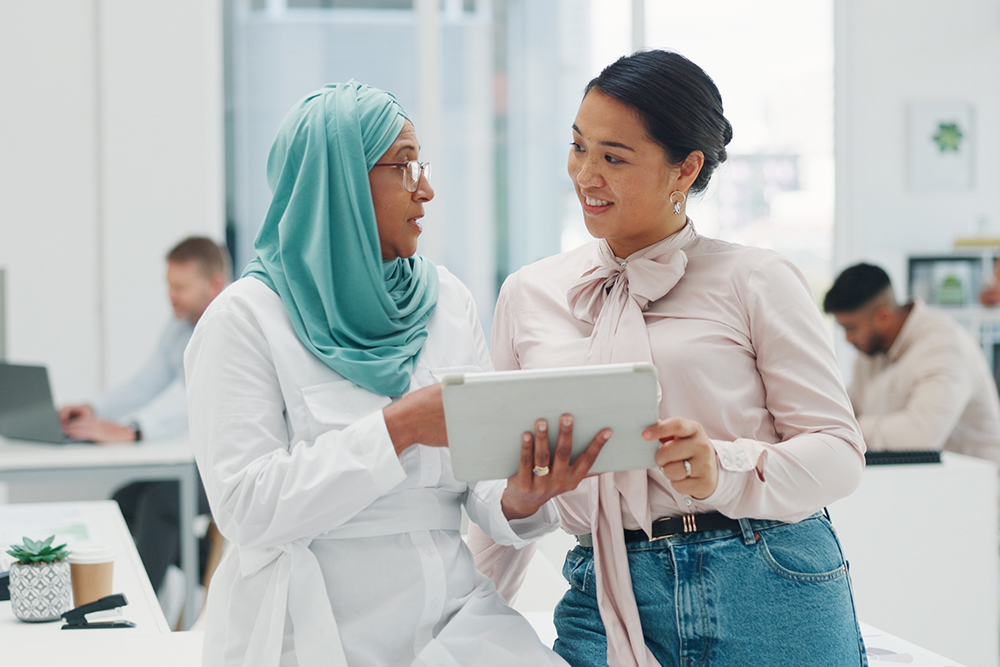 The Benefits of Hiring Interns
Internship programs offer a cost-effective way for an organization to gain additional staff and the ability to test candidates before hiring them. According to Zippia, 56% of all interns accept full-time employment offers following an internship. If an intern does return, their prior knowledge of your business strategies, operations, and corporate culture can make the onboarding process much easier.
Since interns have not yet conformed to your company's culture or business practices, they can freely provide new ideas and strategies. Fostering this kind of innovation can increase your bottom line. 
Interns can also provide valuable feedback to the managers they work with. While constructive criticism is helpful, positive feedback, in particular, can boost the profitability of your current leaders.
6 Internship Program Best Practices
Now, let's look at specific strategies to develop a successful and meaningful internship program.
Broaden Your Search
One best practice is changing the scope of your recruitment efforts. Recruiting students from your own backyard is convenient, but broadening your search will create a larger pool of candidates with differing backgrounds.
It is also helpful to keep an open mind and consider candidates you might not typically select. These applicants could offer unique traits and skills that may be a welcome addition to your team.
Focus on Motivated Candidates
If an internship ad is successful, you can expect many applicants. Finding ways to promptly narrow down the applicant pool is important if this is the case.
Students that seek out your company, perform research on it, and follow up quickly on communications are the ones to take a closer look at. This type of professionalism and ambition makes them excellent candidates to consider.
Offer Quality Incentives
Paying interns an hourly rate or a stipend is becoming a more common practice. A study by Standout CV found that only two in five internships are expected to be unpaid in 2023. 
According to Zippia, paid internships are 32% more likely than unpaid ones to result in the company bringing on the intern as a full-time employee. Because of this, many businesses find it more beneficial to offer competitive pay to recruit quality talent.
Offering scholarships, learning opportunities, or product and service discounts can also draw more interest. 
Train Interns to Succeed
Online training is a great option when personal attention and the enrichment of hands-on training are not available to interns. eLearning can refine their existing skills, introduce them to new topics, and help with needed improvements. Training should be at the appropriate level for each intern. KnowledgeCity's technology courses cater to various skill levels and are a great place to start.
It helps to have training that's accessible during off hours. eLearning allows interns to work independently and at their own pace. It also alleviates the need for 'busy work' when managers get called away or when there's a tight deadline. KnowledgeCity offers many online business courses that are a perfect addition to internship training.
Provide Meaningful and Useful Work Assignments
Many interns are from Gen Z, and studies indicate that this age group and younger workers desire meaningful work. Gone are the days of coffee runs and menial tasks. It is most helpful for everyone if the work assigned to interns is relevant to practical daily processes at your company. 
Short deadlines or complex, large-scale projects could be discouraging for interns and impractical for your business. It is helpful to strike a balance in which interns are challenged without being overwhelmed.
Take Time to Celebrate Wins
Studies have shown that encouragement and positive feedback increase engagement and productivity. Zippia has also found that 80% of employees will work harder if they feel appreciated. 
Acknowledging interns' contributions and showcasing their best work gives them the motivation and confidence to contribute to the company while improving their skills.
Going Above and Beyond: Getting the Most from Your Interns While Making an Impact on Their Future
Imagine if you worked hard to get through college and study the field you loved, only to have your dreams crushed during your internship. A single negative incident might change someone's view of an entire industry when it is their first time encountering it.
When most of us look back at our early jobs, it is easy to remember bad experiences with employers or managers. Giving your interns a memorable and positive experience goes a long way.
Taking the extra steps to introduce interns to your company's inner workings, employees, and culture goes a long way. Connecting with interns personally and treating them as part of the team leaves a lasting positive impression.
Like a favorite teacher at school, managers and mentors have the chance to change lives and lead these newcomers into fulfilling careers.
How KnowledgeCity Can Help
Ensuring interns get the most out of their experience includes offering robust learning options. Online training is a great resource they can take with them going forward. 
KnowledgeCity offers an abundance of courses interns may find useful. These eLearning gems include courses in leadership, communications skills, marketing, financial planning, graphic design, and more.
Hiring interns is a worthwhile endeavor that has lasting benefits for your business, interns, and employees. Using best practices can ensure your internship program is successful and impactful.
Download KnowledgeCity's free guide on How to Implement a Successful Employee Training Program to get started today!