When it comes to Title IX compliance, you need training that doesn't just concentrate on what Title IX is. It's critical to know what steps to take and how to take them for issues that necessitate further investigation.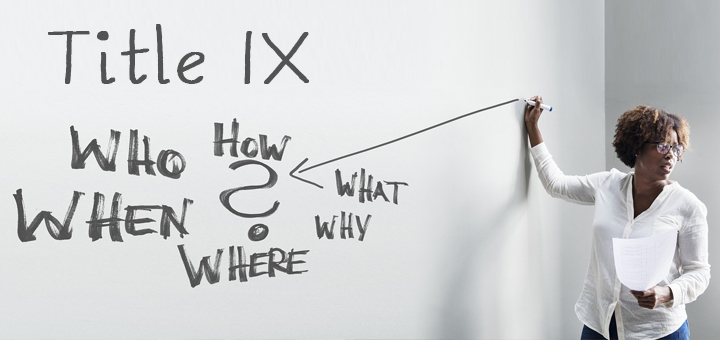 What is Title IX Compliance?
Title IX is part of the Educational Amendments of 1972. It protects people from gender discrimination in any education-related programs and activities that receive federal funding. Title IX further requires educational institutions to provide students and employees with an environment free of sexual misconduct. This includes sexual harassment and sexual violence. Furthermore, campuses must give equal education access for students regardless of sexual identity or orientation.
The regulatory provision also holds schools accountable for off-campus incidents and even those that involve people who are not current students. This includes faculty, staff, visitors and graduate students.
Consequently, proper compliance is essential. This goes far beyond simply avoiding fines and penalties. It demonstrates to your campus and the community as a whole that your organization takes these issues and complaints seriously. Furthermore, you empower staff to follow the appropriate steps and processes to document and take action for a swift and sound resolution. This gives you critical control over outcomes and public perception.
With that in mind, here are three things you need to remember when it comes to  Title IX compliance training.
1. Title IX is Not a "One and Done" Deal
When it comes  to Title IX compliance, training needs to be more than a box checking exercise. Training is only the first step. Sexual violence, hazing, discrimination and other Title IX violations will continue to occur on and off campus. So, it's important to not only learn the appropriate skills and steps for dealing with these complaints. Faculty and staff also need to know how to respond appropriately and remain vigilant about recurrences.
You should look at Title IX compliance training as a set of necessary skills that extend beyond regulatory applications. These skills equip your organization to tackle a wide range of modern threats and issues on today's diverse campuses. Consequently, these processes should be an important component in your organizational culture rather than just a checklist you can tick all the boxes on and forget about.
2. Ensure Employees Understand Their Roles and Can React Accordingly
Those employees, staff and faculty who are responsible for reporting and taking action against such complaints should fully understand their roles and legal obligations. They also need to know the steps to take when someone comes to them with a complaint.
Because students are the primary targets in Title IX cases, they may believe that any faculty member carries sufficient responsibility to help them with reporting and taking appropriate actions. Oftentimes, lesser Title IX compliance training does not prepare staff for taking the necessary action in these situations. Therefore, it is important to choose a Title IX compliance training program that provides all staff with the appropriate tools and training to take action to help protect victims, document issues, and follow all recommended guidelines and steps to resolve problems, even if it comes down to a more thorough criminal investigation.
3. Keep the Lines of Communication Open
Finally, open communication is key. When Title IX violations occur, responsible parties need to know how to keep the lines of communication open. They also need to know how to do this in a proactive and positive manner. This requires specific training and practice. 
Beyond this, Title IX itself and related policies and procedures are always changing. Therefore, it's a good idea to ensure that all responsible parties are kept informed of the updates and changes to the law so that they can react accordingly and appropriately.
Next Steps
Following these Title IX compliance training tips empowers faculty and staff to keep your campus and students safer. It also sends powerful statement about your institution's values. It shows that your organization takes sexual discrimination and harassment seriously. You are further demonstrating a continual dedication to providing equal, respectable and accommodating education for all in a safe and secure environment that encourages excellence.