Preparing Employees for a Merger & Acquisition Transition: 7 Useful Tips
If there's a merger or acquisition in your company's future, a well-laid-out employee communication plan is the key to pre-empting the formation of a rumor mill. In the absence of planned announcements and regular updates, the resulting "information void" could quickly be filled with fear-driven assumptions and negative gossip. 
From a human resources standpoint, there are effective strategies for minimizing the disruptive effect that mergers and acquisitions can have on employee morale and retention. Key objectives should include transparency, controlling the narrative, and staying ahead of the curve. Those priorities are among the ingredients of a smooth organizational transition. Addressing employee concerns early on should also be a focal point of an effective company-wide communication strategy.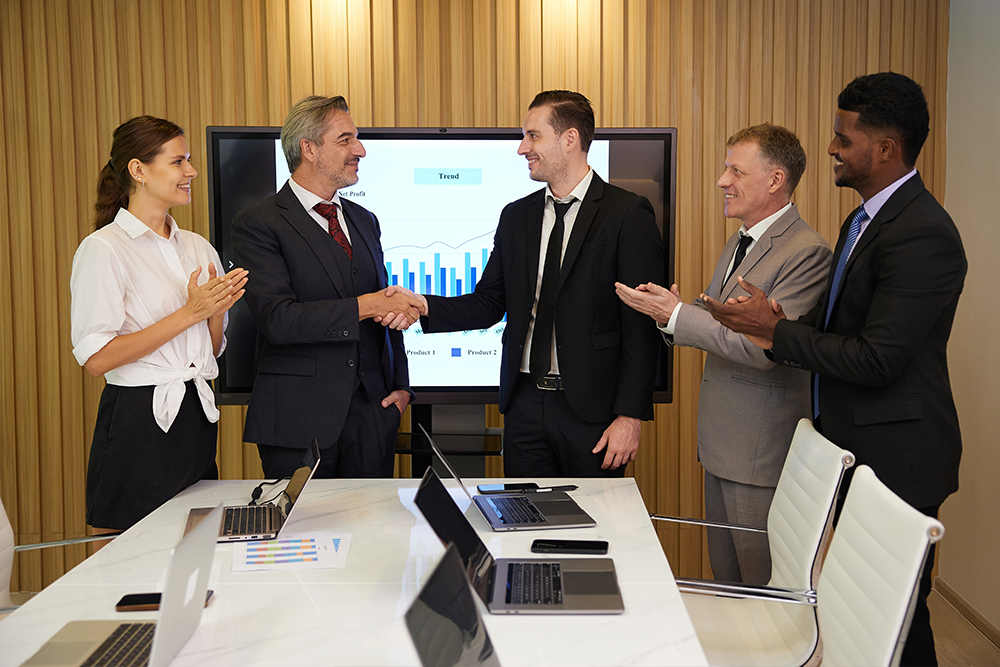 The Effects of Mergers and Acquisitions on Employees
Employee fears about their job security are not entirely unfounded when it comes to mergers and acquisitions. According to the Harvard Business Review, for example, "Roughly 30% of employees are deemed redundant when firms in the same industry merge." Knowing that one out of three staff members are probably going to be laid off is reason enough for many workers to begin scouting around for another job. 
Job insecurity isn't the only concern employees have when faced with the prospect of an impending merger or acquisition. If not handled with finesse, organizational change can have a detrimental effect on everything from employee morale to job performance and loyalty. Recognizing staff concerns and working to set realistic expectations can smooth out many bumps in the road and help assuage fears. While every workplace has different challenges and dynamics, the following concerns are generally universal among employees during mergers and acquisitions.
Company culture: Changes in a company's leadership team, corporate values, or policies can be stressful to employees who are comfortable with their present working environment. According to Psychology Today, "flexibility, autonomy, and a sense of belonging and inclusion at work are the leading drivers of employee happiness." Understandably, employees may believe that a merger or acquisition could erode those and other aspects of their job that they value the most.
Job stability: Depending on the scope of changes taking place at a company, workers may need to adjust themselves to new procedures, different schedules, faster turnaround times, and other alterations in their daily routines. Employees may also have concerns about changes in dress codes, job responsibilities, chain of command, and work locations. One solution to these and other concerns is to leave no question unanswered. This approach, which involves ongoing, two-way communication, helps soften the impact of mergers and acquisitions on employees.
Communicating the Merger to Employees
The sooner team members are informed of merger and acquisition plans, the better it is for employee relations and morale. Ideally, the message should be delivered in person by a company CEO, president, or other top-level executive. If an in-person group meeting is not practical, a companywide video conference is an alternative. 
Relying on email, employee newsletters, and social media to announce a merger or acquisition may be perceived as cold and impersonal. That approach also leaves the message open to misinterpretation. However, using those channels for updates, clarification, and follow-ups, either by upper management or HR, can be a viable strategy for keeping employees informed and in the loop. This type of outreach is helpful in minimizing the negative effect of mergers and acquisitions on employee morale.
How to Support Employees During Mergers and Acquisitions: 7 Useful Tips
When communicating a merger to employees, a well-planned, integrated approach helps ensure that no one feels left out. Here are some strategies and tips to keep staff apprised of crucial developments.
Provide employees with regular updates, timelines, and opportunities to ask questions. Explaining why, how, and when the merger or acquisition will take place helps earn the trust of employees and allay their fears about how they will be affected. 

Distribute organization charts illustrating shifts in corporate structure, chain of command, and company hierarchy. This can help clarify the scope of changes coming down the pike. 

Be positive, but don't sugarcoat it. As

McKinsey

and Company points out, "Employees value having difficult messages communicated in a direct way." A common communication error involves "avoiding substantive topics and instead offering up 'happy talk' or corporate prattle that is meant to comfort but that no one believes, except maybe the leaders." 

Create an Employee Value Proposition. An EVP focuses on anticipated benefits, advantages, and opportunities that will open up to employees as the result of the merger or acquisition. One crucial truth that executives and HR departments sometimes forget is that workers are consumed by one overriding thought, and that is "How is this change going to affect me?" As McKinsey suggests, "Communicating with employees solely about the greater good, before addressing their personal situation, will probably not be ineffective."

Set up individual meetings with key employees and managers to discuss their future with the company and, if appropriate, provide them with incentives to stay. These conversations and how they're conducted can be crucial to retaining your most talented personnel. Check out the courses we offer in our online learning library for

video training

on effectively communicating organizational change to employees and other stakeholders. 

Gather feedback to show employees that their opinions and feelings matter to management and executives. Conducting surveys, focus groups, and town hall meetings are sound methods of gathering input. The information you take in will help you respond to specific concerns, objections, and misconceptions. These tools can be "game changers" when trying to understand and address the effects of mergers and acquisitions on employees.

Be prepared to respond as candidly as possible to

questions and employee concerns

during a merger. Your ability to provide steadfast guidance, reassurance, and up-to-date information about a merger or acquisition can play a major role in an organization's plans to successfully expand, diversify, or join forces with another company.
Since each company's objectives are different and unique, there is no "one size fits all" approach to communicating organizational change. Understanding your employees' concerns and demonstrating a sincere desire to address them is the foundation of any meaningful employee communication strategy. This is especially relevant when you're considering the impact of mergers and acquisitions. 
For more tips on how to effectively prepare your team for changes, challenges, and crises in your organization or industry, download our free guide to crisis management in leadership. In this whitepaper, we examine the variety of risks your crisis management plan should address, and the corresponding protection, prevention, mitigation, and communication strategies to address them. 
If you're interested in getting trial access to our 25,000+ online training videos at KnowledgeCity, don't hesitate to contact us for a free demo. Our video courses provide effective strategies for managing change and achieving organizational goals in 2023.