With the nation barreling toward a possible government shutdown in mid-November, millions of public sector employees are bracing themselves for steep financial ramifications that might extend into the critical holiday season.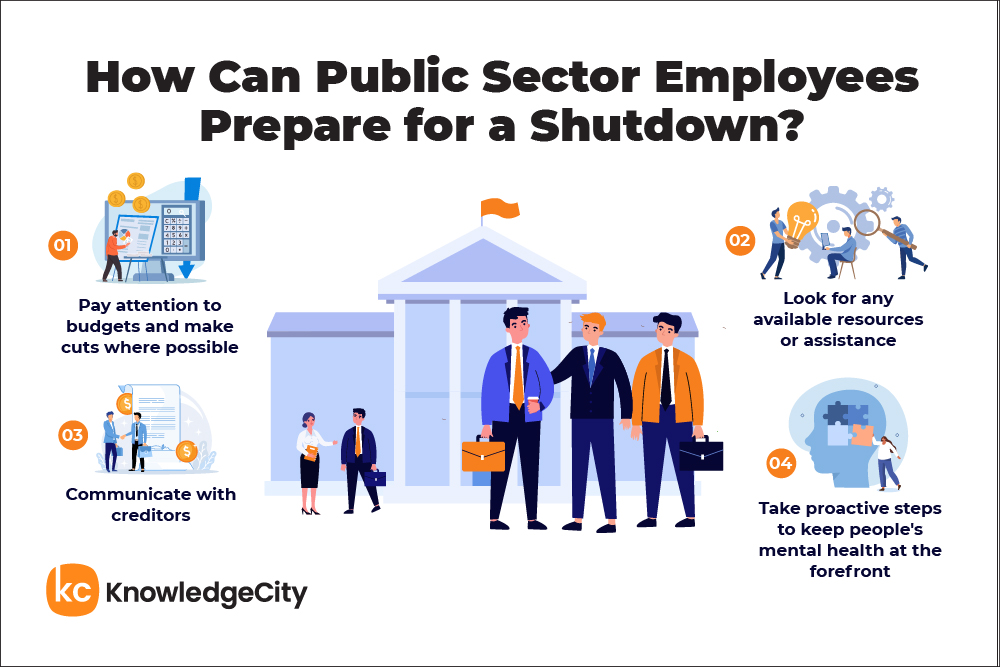 During a government shutdown, many federal employees are either furloughed or have to work without a paycheck, leaving them in a sea of financial and emotional uncertainty with no idea how long it might last. 
"Losing out on income for one, two, or three pay periods can be the difference between paying rent or a mortgage," said Mark Zandi, chief economist of Moody's Analytics, in a recent CNBC interview. "That can pose really significant household issues." 
The last government shutdown occurred in 2018-19 and lasted 34 days. 
Right now, Congress has until Nov. 17 to devise a plan as a dark cloud hangs over the nation right before the Thanksgiving holiday. 
Public sector employees, along with unions, advocacy groups and concerned citizens nationwide, are urging lawmakers to find common ground before the deadline to safeguard the livelihoods of millions of families. 
With the economy already at a critical juncture, the potential impact will likely have significant consequences for the civilian federal workers who wouldn't get paychecks and households that may not receive certain federal benefits. 
Federal agencies charged with enforcing federal labor and employment laws would grind to a halt.
A government shutdown would also have a local impact on America's nearly 20,000 cities, towns and villages. City leaders might have to scramble to devise contingency plans to deal with interruptions to programs like WIC, SNAP, and Head Start. 
In an interview with NPR, David Mollett with the American Federation of Government Employees explained how government shutdowns impact public sector employees. 
"Finances, child care [are] some of the main issues why they can't make it to work," Mollett said. "A lot of these employees work 30 minutes to an hour away from their jobs, and they have to figure out how to get gas to get back and forth because they have no income coming in. [Many are] single-parent households." 
Mollett said many TSA employees had to rely on food banks during the last shutdown.
"So we've actually seen food banks that have been set up at airports," he told NPR. 
"The people who are working at those security checkpoints are there checking our IDs, going through our luggage and then getting their meals at food banks because they can't pay for their meals." 
In a recent press release, the Department of Homeland Security said: "As the third largest department of the federal government, DHS is home to hundreds of thousands of hard-working individuals devoted to public service. A shutdown would somehow affect every member of the DHS community, putting a strain on our team and members' ability to make ends meet, put food on the table, and more." 
According to DHS—which employs 260,000 workers in jobs ranging from aviation and border security to chemical facility inspectors and cybersecurity analysts—almost three-quarters of the workforce would be required to work without pay. 
Similarly, nearly three in four DHS employees—a little over 185,000 people—would be required to continue working through a shutdown without receiving a paycheck. The department said those working without pay include law enforcement officers, analysts, investigators, and disaster response officials. 
Data shows that about 2 million civilian federal employees will experience a direct hit and be either furloughed or forced to keep working without pay until the shutdown ends. 
Furthermore, more than 1 million active-duty military personnel will stay on the job without compensation, and contractors hired by the federal government will see a halt to their paychecks. 
Only once a shutdown is over will public sector employees who were required to work and those furloughed receive back pay. 
Federal employees who won't be affected by the shutdown include United States Postal Service workers, since their agency doesn't rely on taxpayer dollars for its funding. 
Other services that will continue uninterrupted include Social Security payments, pension benefits for retired federal employees, Medicare, and Medicaid. 
With the potential for an extended shutdown on the horizon, the coming months will be a test of endurance for public sector employees struggling to make ends meet. Yet government leaders say many families are still feeling the sting from the previous shutdown. 
"We had thousands of members across the country who returned holiday presents because they needed the cash, missed a mortgage payment, took out short-term loans and ran up their credit card debt because they had no paychecks for a month," said Doreen Greenwald, president of the National Treasury Employees Union, in a recent CNN interview. 
"They stood in line at food banks, pulled their children from child care, were unable to put gas in their cars, and begged creditors for grace," Greenwald said. 
Here's how a government shutdown could impact the public sector workforce, plus the latest news from Washington. 
What's the Latest on the Government Shutdown? 
In late September 2023, President Joe Biden inked a temporary funding bill to keep agencies afloat, with little time to spare after Congress rushed to approve a bipartisan deal. 
After signing the spending bill—officially dubbed HR 5860—Biden said, "I just signed a law to keep the government open for 47 days." 
Short-term bills usually keep the government open for a few months until lawmakers can negotiate and pass the full spending bills. 
Washington lawmakers are now on the clock, with a Nov. 17 deadline quickly approaching and workers scrambling to prepare for the worst. 
Historically, government shutdowns have ended when one party caves due to public outrage and pressure. According to the Bipartisan Policy Center, there have been 14 shutdowns since 1980, forcing deep cuts in federal spending. 
In a statement, BPC says the best way out of a government shutdown is for Congress to agree on full-year spending or, failing that, pass a continuing resolution as another temporary stopgap. 
What Happens to the Average Public Sector Employee?
Federal employees will usually land in one of three categories: working with pay, working without pay, or furloughed with no paycheck. 
Experts say it's hard to predict who will be furloughed if indeed there is a shutdown. Employees will have to wait for confirmation from their supervisors. 
According to the American Federation of Government Employees—the largest federal employee union representing 750,000 government workers—during the partial shutdown in 2018, some 380,000 government workers were furloughed and 420,000 reported to work without pay. 
More than 1.3 million active-duty military personnel will still be required to report for duty, but will not receive paychecks until after a new deal is reached. 
"Hundreds of thousands of their civilian colleagues in the Department of Defense would also be furloughed, affecting the ways in which the department manages its affairs globally, including the vital task of recruiting new members of the military," the White House said in a statement made Sept. 26, 2023. "All of this would prove disruptive to our national security." 
Here's a look at who could be affected by a government shutdown and which functions would continue to operate. 
The Department of Homeland Security
DHS was among the first major federal agencies to release an impact statement on how a government shutdown would affect its workforce. The department—the third largest in the federal government—estimates 72 percent of DHS workers would be required to work without pay. 
Those working without pay include law enforcement officers, analysts, investigators, and disaster response officials conducting work such as:
Safeguarding and securing the border

Processing, detaining, and removing individuals that have unlawfully entered the United States

Seizing illegal narcotics like fentanyl

Identifying, disrupting, and dismantling criminal operations that smuggle weapons, drugs, and undocumented migrants

Combating child exploitation and child predators

Identifying and arresting human traffickers

Conducting search-and-rescue operations

Responding to natural disasters

Preventing and coordinating responses to cyberattacks and threats to the federal government and other critical infrastructure

Protecting U.S. government leaders and foreign dignitaries
Jesse Santiago, a 20-year TSA officer at Houston's airport, remembers the drastic impact the last shutdown had on his family. He told CNN in an interview that he was forced to stand in line at his local food bank, had to ration his medication, and fell behind on mortgage payments, which ultimately cost him his home. 
Santiago says he loves to keep America safe, but he's outraged at what might happen if there's a government shutdown. 
"Imagine serving the American people only to have to beg for food," Santiago told CNN. "I refuse to stand in food lines again while working for the federal government."
Other people reported how the uncertainty keeps them up at night, especially with the potential shutdown coming right before the holidays. 
Employees typically receive notification that they'll be either furloughed—which means being laid off temporarily—or "excepted" and forced to keep working without pay. 
Excepted workers include those who protect life and property, like law enforcement, federal prison officials, airport security, and military troops. 
Those working on federal contracts and even civilians who cater to government employees are sometimes laid off or lose business without any promise of back pay.
Federal workers can take a few steps to prepare for a possible shutdown. 
Pay special attention to budgets and make cuts where possible.

Public sector employees must put safeguards in place and make urgent financial adjustments if they can. Check budgets and identify places where households can cut expenses, even temporarily. 

Look for available resources.

Contact local support organizations, nonprofits, or community assistance programs that aid impacted individuals. These resources, like food banks, can provide temporary assistance for financial burdens or offer other resources. Some organizations, like Toys for Tots, will amp up holiday assistance programs and provide families with holiday gifts for children. 

Communicate with creditors.

Reach out to creditors, banks, and utility service providers beforehand and inform them about the situation. Many lenders have hardship programs available specifically for government shutdowns. Employees can also discuss payment options and extensions to alleviate financial hardship. 

Take proactive steps to keep mental health at the forefront.

This can be an emotionally taxing time for federal workers, so it's essential to focus on self-care and get fresh sunshine and exercise if possible. Reaching out to family members and friends is another way to find encouragement and help during this time. 
It's also important for employees to reach out to their human resources department and supervisors, along with union representatives or local agencies, to learn more about the resources available in their communities. 
To read the United States Office of Personnel Management guidebook for public sector employees during government shutdowns, click here.
Subscribe to Our Newsletter
Join 80,000+ Fellow HR Professionals. Get expert recruiting and training tips straight
to your inbox, and become a better HR manager.