If you do any business that could gather information from citizens of the European Union, you must make sure that your organization is in compliance or face hefty fines.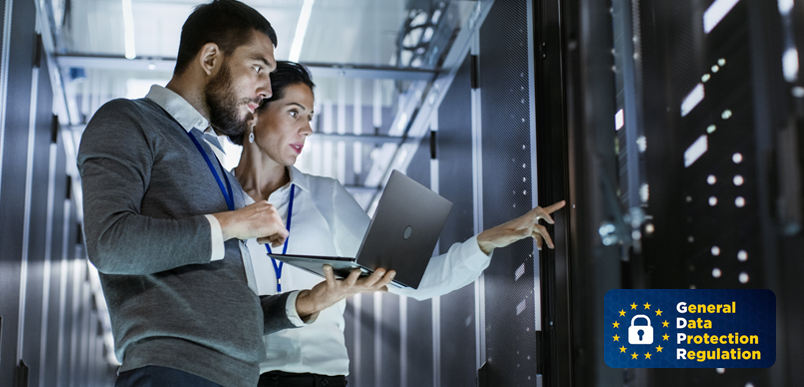 What is the GDPR?
The General Data Protection Regulation serves to protect several types of personal data including name, address, identification numbers, location and IP addresses, cookie data, and personal information (racial and ethnic data, health and genetic data, biometrics, political affiliations, gender and identity, etc.).
Personal and Sensitive Data
The European Union defines personal data as "any information that relates to an identified or identifiable living individual. Different pieces of information, which collected together can lead to the identification of a particular person, also constitute personal data." The GDPR protects personal data of all residents of the European Union regardless of the technology used to process that data. Regardless of how data is gathered, stored, or processed, it is protected by the GDPR.
 Who Must Comply?
The GDPR applies to all members of the European Union, as well as any company outside of the EU that markets goods or services to EU citizens. As a result, the GDPR affects global data protection requirements. Most companies that do international business must be compliant with GDPR because of this.
 How This Affects You and Your Business
The GDPR mandates that equal liability is applied to data controllers (the organizations that own the data) and data processors (organizations that manage the data). If your organization uses the services of a third-party data processor that is not in compliance, then your organization is not in compliance. It is important to revise contracts with third party data processors that define how data should be managed and protected, as well as how breaches of data security should be handled.
For U.S.-based businesses, there is an increased need to evaluate consent. GDPR pushes companies to make updates that give consumers greater control over their personal data, including how it is shared and gathered. Furthermore, minors under the age of 16 need parental consent to share personal data, meaning that companies need to be mindful of adding age clauses to their privacy policies.
The GDPR imposes fines on companies that control and process data that are found to be non-compliant. Fines are determined based on the following criteria:
Nature of infringement
Intention
Mitigation
Preventative measures
History
Cooperation
Data type
Notification
Certification
Organizations that are found to be non-compliant face fines as high as 4 percent of the company's annual revenue.
GDPR Requirements
 There are specific requirements that organizations must meet to be compliant with the GDPR. These include:
Individual's Rights
The GDPR has specified 8 major Rights for individuals:
Right to be informed – Individuals are allowed information about the collection and use of their data, the purpose for processing their data, how long the data will be stored, who the data is shared with and data breaches
Right to access – Individuals can access their data. Individuals can receive confirmation that a business is collecting data and can receive a copy of that data
Right to rectification – Individuals can have their data changed if there are inaccuracies
Right to restrict processing – Individuals can work with organizations to restrict the processing of their personal data but only in certain cases
Right to be forgotten – Individuals can request to have their information removed but only under certain circumstances
Right to object – Individuals can object to having their data processed by an organization
Right to data portability – Data portability gives individuals the ability to reuse their information as they determine to be appropriate as long as consent was given to collect the data
Right to refuse automated decision making – Individuals have the right that decisions not be made solely on automatic processing in cases where there would be legal (or similar) effects
Enforcement
Since the GDPR does not have a single agency in charge of enforcing rules, each EU country must have supervisory authorities that work to enforce the regulations in the GDPR and impose fines for violations.
The duties of supervisory authorities include:
Monitoring and enforcing regulations
Handle and investigate complaints
Keeping the public aware of risks, rules, protections and individual rights
Monitoring the development of information and communication technologies
Issue warnings, fines and bans for any violations found
GDPR Audit
Your Organization needs to conduct an audit to determine whether or not you are in compliance with the GDPR. An audit can help you identify areas that require improvement and keep you compliant.
Questions to ask during an audit include:
How and where does your organization move and store data?
Do you have a data protection officer?
Who has access to the data your organization stores?
Is your organization aware of GDPR notification requirements?
Are your organization's notifications clear?
Is there a legal basis for processing and collecting data?
Is there documented proof of your organization's legal basis?
What is your organization doing to manage data risks?
What data does your organization have?
What does your organization use the data for?
Next Steps
As you can see, it is crucial to make sure that your business is in compliance with the GDPR if you do any type of business that affects any citizen of the European Union. Fight the urge to convince yourself that since your company is not in the EU, the changes to the GDPR do not affect the way you do business. In a rapidly changing online world, data protections are changing to keep up with potential problems and challenges. Protect yourself and your organization by taking KnowledgeCity's online course "General Data Protection Regulation" to help you more fully understand what individuals are entitled to with their data and how your organization can make key changes that will keep you in compliance with the GDPR.