Most offices and businesses use employee bulletin boards for posting important notices and announcements, but often these boards are not used to their maximum potential. With a little planning and creativity, however, you can transform a humdrum company bulletin board into a vehicle for unifying staff and communicating necessary information.
The primary problem with many company bulletin boards is that they can look like a random hodge-podge of notifications, outdated flyers, and photographs from last year's Christmas party. While these items may have had value when they were originally posted, they have a limited "shelf life" and become increasingly stale with the passage of time. Updating and organizing is essential to keep bulletin boards fresh and relevant.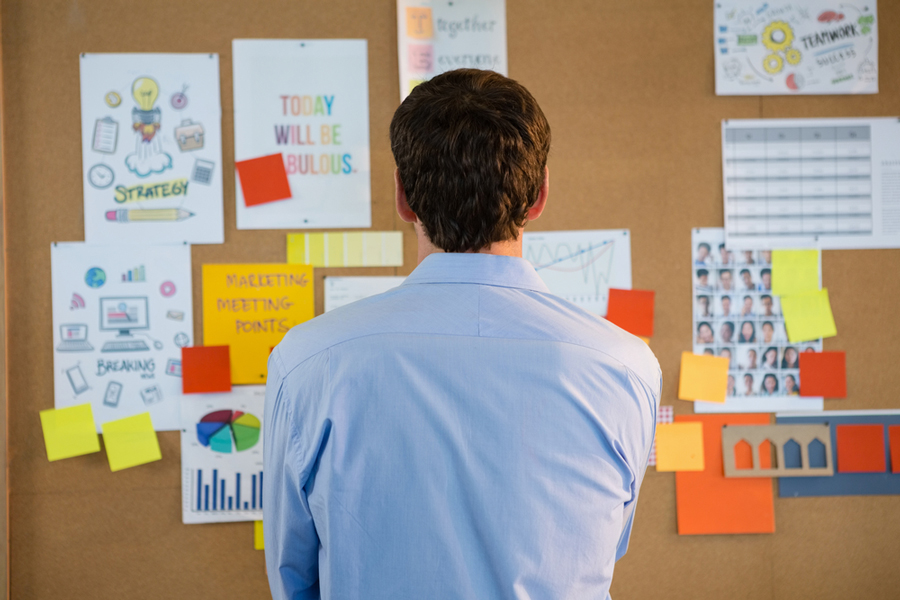 To help you create a bulletin board that gets people to stop, look, and pay attention, we've compiled 19 imaginative bulletin board post ideas that can apply to any office or industry.
1. Positive media coverage
If your organization has a public relations department, chances are you're getting coverage in the media about special events, achievements, charitable and fund-raising activities, new hires and promotions, and notable accomplishments. Your company bulletin board can be an effective way to get some added mileage from the positive activities and public recognition your company and staff receive.
2. New employee announcements
A great way to welcome a new employee and introduce them to their co-workers is to devote a section of your bulletin board to newly hired staff. An easy-to-design template with spaces for a photo and background information can streamline the process of announcing new hires.
3. Staff events
Displaying photos from awards banquets, community service activities, holiday parties, and retirement luncheons are some of the many ways a bulletin board can reinforce positive work-related experiences and strengthen bonds among employees.
4. Employee achievements
If your organization provides recognition for "employees of the month" or account executives who generate high monthly sales, then a section on the bulletin board could be reserved to highlight these accomplishments and people.
5. Inspirational quotes
Everyone needs a little encouragement and motivation from time to time and choosing some inspirational words to share with the staff can be a worthwhile addition to a company bulletin board.
6. Cartoons and jokes
These should be screened to make sure that nothing controversial or off-color finds its way into the mix, but a little humor and satire is something almost everyone can appreciate and relate to.
7. Birth and marriage announcements
Most employees will be more than happy to share photos, announcements, and newspaper clippings from family births, milestone celebrations, and marriages.
8. Holiday greeting cards and decorations
Although these items need to be removed within the first week of January, they add a festive feeling to your office or business between Thanksgiving and New Year's. Depending on the makeup of your staff, all cultural and religious holidays should be recognized, including Christmas, Hanukkah, and Kwanza.
9. For sale items
Providing staff with a place to post announcements about items for sale gives them a way to convert unwanted belongings to extra cash—something everyone appreciates! It's also a useful service for people looking for specific items and bargains, such as a used car in good condition, an affordable apartment for rent, or a set of gently used golf clubs. It's a potentially popular feature that can add value and interest to your company bulletin board.
10. Cute pets corner
There's a good chance that more than half of your personnel own one or more dogs, cats, or other pets. Pet owners are like proud parents and would be eager to share and compare their pet photos with co-workers and colleagues.
11. Community service opportunities
Whether your office is hosting a toy drive or supporting other local causes, many people have a charitable side and are interested in helping disadvantaged individuals and groups.
12. Health and Safety
Providing tips, resources, and guidelines for staying safe and healthy will have a positive impact on your organization.
13. Training opportunities
Although this information is usually communicated through other means, posting classes, workshops, and upcoming courses on your company bulletin board will remind staff of opportunities to learn new skills and advance their careers. Sometimes it's that "one additional reminder" that gets people to register for a course and act.
14. Internal job openings
This type of posting will be of interest to employees looking for new opportunities within the company—either for themselves or a family member or friend.
15. Fun company activities
This category can run the gamut from marathon races to company picnics. Both types of events give employees a chance to bond, get to know co-workers outside the office, and become involved in planning or participating in worthwhile, often fitness-related, activities.
16. Recommended eateries and local businesses
People value and seek out recommendations for good restaurants, dry cleaners, dog groomers, car repair shops, and other essential services, and would appreciate seeing referrals, coupons, and business cards posted by coworkers and colleagues.
17. Retro photos
Your organization's staff will get a kick out of seeing old photos of people they work with—especially if they guess the person's identity. Posting class pictures, decades-old wedding pictures, or sports team photos of people at your company would be an attention-catching feature of your company bulletin board.
18. News you can use
Timely news items that provide industry updates, computer security tips, scam alerts, money-saving strategies, health and fitness tips, and other useful information is a feature your staff would appreciate and benefit from.
19. Company policies and procedures
Company bulletin boards can and should be a mix of necessary information and fun stuff. "Policies and practices," of course, would fall under the first category! However, providing employees with guidelines affecting on-the-job safety, regulatory compliance, personal conduct standards, and promoting the organization's values is an essential aspect of an organization's internal communication program.
If you'd like to learn more about effective communication techniques in the workplace, check out KnowledgeCity's communication courses online. Discover ways to improve your business presentations, fine-tune your negotiating skills, and strengthen your public speaking abilities. KnowledgeCity also offers courses in email essentials, facilitating productive meetings, and "humanizing connections in the digital world." As a special offer, we invite you to download our free e-book on using creative problem-solving techniques in and out of the workplace.