It's no secret that the IT sector is undergoing a paradigm shift to cloud computing, which has created new opportunities and challenges for IT professionals. Cloud computing is everywhere, and it's changing how businesses think about IT infrastructure, data centers and the role of IT within their organizations.
Enterprises are using cloud-based services to cut costs and increase efficiency, but many still have stringent requirements for who should be in charge of the technology. Others are searching for the best IT courses that will help upskill their current staff. For these companies, the number one priority is finding a reliable training program for their IT staff.
The best way to learn computing skills is through a combination of hands-on experience and e-learning—and that's where certification programs come in. These training programs teach skills that are relevant to the workplace and are supported by employers.
Microsoft is a leader in the market for cloud-based computing with its Office 365 and Azure products. The tech giant provides certifications for almost every software program it offers and thousands of professional certifications for those with skills in specific areas like networking, security or software development.
However, there are numerous other vendors who offer their own training courses as well.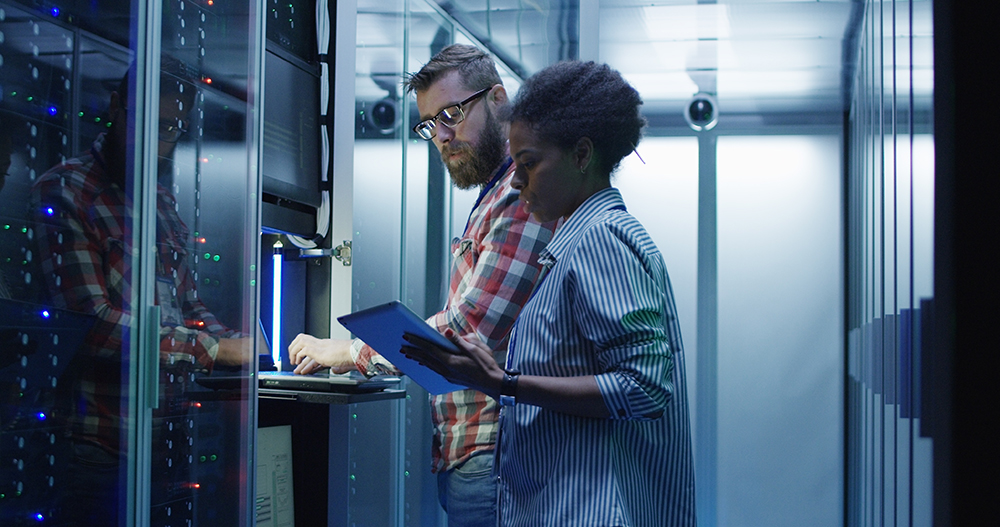 Top IT Courses to Offer Employees
The way to tackle the skills gap is not to disconnect from the job market, but to ensure that you are providing employees with the training they need to remain competitive.
The continuing rise of the digital age has provided businesses with an opportunity to prepare their employees for a future where more of their work will be done virtually. This has prompted many companies to make the move towards offering IT training for employees.
Employers will need to understand that they are not just investing in technology, but also in building a workforce of tomorrow's workers. With this in mind, we've compiled a list of four best IT courses for IT and non IT professionals that employers should consider offering as part of their employee training strategy. These courses include:
1. Cyber Security
We live in an age when the cyber security threat is no longer hypothetical. For example, according to a 2021 Data Breach Report from IBM, the average data breach cost is about $4.24 million. With malicious hackers lurking around every corner, organizations are scrambling to protect their data and their network.
That is why it's critical that organizations have a well-trained team that understands the importance of cyber security and the steps they can take to maintain a secure environment. Cyberspace is a very real place with valuable resources—intellectual property, trade secrets, sensitive information, and thousands of computers and users.
The best way to protect your business against a cyber attack is through employee training, and the best way to train employees is through courses that offer certification without requiring them to spend time on-site.
The best course for you depends on what your organization's needs are. An online cyber security training class may be a good choice if you don't have as many employees who need cyber security training.
2. Cloud Computing
Cloud computing has matured from a niche technology to a mainstream solution for businesses and consumers, with industry experts forecasting that 45% of the IT budget will go towards cloud solutions rather than traditional IT. This means that more and more companies are looking at whether it makes sense for them to offer their employees cloud-computing classes.
The benefits of cloud computing are clear-cut: no hardware or software to install, infrastructure that can scale up and down as needed, flexibility when it comes to meeting the business needs, and the ability to move data between on-premises systems and the cloud in minutes.
However, the transition from traditional IT services to cloud computing can be a little scary. To get people through this transition successfully, you need to have clear goals and a plan for how you're going to achieve them. This is true for individual employees as well as departments within the company.
A good cloud training program not only teaches employees the basics of cloud computing— what it is, why it's important and how to use it—but also sells them on the idea of becoming more productive by having access to tech tools that make their work easier.
3. Data Analytics
Employees today are increasingly dependent on data to make their way through the world. It is not just a tool for management anymore. The ability to analyze and use data is crucial in everything from business strategy to the future of marketing. In fact, the data analytics market is expected to generate an annual revenue of $68.09 billion by 2025.
This kind of course wouldn't be out of place in any manager's arsenal, but it's especially useful in sales and marketing departments that rely on data analysis to get their jobs done. Why? The use of analytics will become even more important as technology advances, but not everyone has the knowledge or skill set to do it themselves.
A good data analytics course for employees to take would discuss how to choose the right data tools, what kind of data is the most important, when to collect it and how to make sense of it all.
4. Project Management
Project management is an essential aspect of any business, with the profession estimated to create about 87.7 million jobs by 2027 as per the Project Management Job Growth and Talent Gap 2017–2027 report published by the Project Management Institute (PMI).
Not only does it help with your own projects—like annual planning, inventory management and product research—but it also helps you manage the work of your employees.
Employees can be your most valuable asset; even more valuable than the products and services you offer. But an employee who doesn't understand project management can cause major headaches for your business and can even result in a lawsuit.
Project management training courses can be one of your best investments as a company. They're a great way to build employee morale, improve efficiency and get everyone on the same page.
The Future of IT Training is Online
More employees are seeking ways to keep up with current technology, and many employers are offering their employees the necessary IT training to equip them with the skills they need to grow in the IT space.
If your company doesn't offer in-house formal training, or if you choose to hire a third party vendor, you need to make sure that the training is both effective and cost effective.
Here are some of the areas in which you might want to look into hiring a professional IT trainer:
Curriculum
Many employers prefer to use an instructor-led training method that covers everything from introductory courses on Microsoft Office software through to advanced topics like networking or mobile devices. Others go with a self-paced option that allows employees to come into the office or work online at their own pace.
Training Style
While some employers prefer an in-person approach, where employees learn from a live instructor who guides them through the course material, it's becoming more common to go for a combination of e-learning and virtual instructor-led training.
In fact, according to a recent study, the shift away from classroom-based instructor-led training (ILT) is happening faster than many companies realize.
In 2019, classroom-based ILT was 40% of the IT training market. In 2020, that fell to 20%. At the same time, new technologies used for online content and virtual ILT increased in popularity during this same time frame. Classroom-based ILT fell from 47% in 2019 to 20% in 2020, while online content and virtual ILT methods rose from 47% to 68%.
Learn New Skills
You can now help your team stay current with the latest in technology by providing them with e-learning and virtual instructor-led computer courses that are affordable and practical.
KnowledgeCity's learning solutions provide affordable, easy-to-use educational opportunities for employees who want to advance their skills or learn better ways to work. Common courses cover areas such as:
Data Science
Microsoft Suite
Adobe Suite
Google Suite
Cyber Security
Accounting software
Engineering Software
Social Media
Feel free to download our free guide on how to implement a successful training program so you can learn more about what an employee training program entails and the benefits you can expect from employee training.