11 Great Gifts for Remote Work Employees
In many ways, working from home may seem like the ideal job. You don't have to struggle with rush-hour traffic; you can get ready for work in less than half the time, and your chances of catching COVID are slim to nil. Contrary to appearances, though, it is not necessarily the best of all worlds – especially for those who enjoy the social interaction of traditional work environments. 
The reality of telecommuting is that remote workers can feel isolated, lonely, and disconnected from the rest of their team. That's why it's especially important for managers to bridge the gap between the office and remote employees.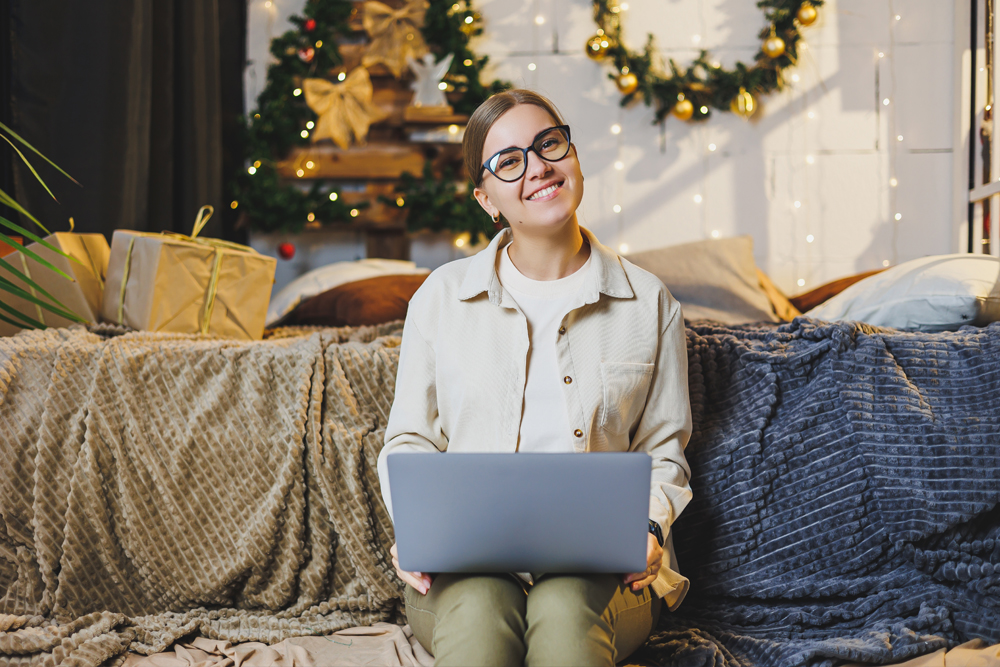 With the holiday season and office parties underway, those feelings of being separate from the team can be amplified. Video chats can help create a feeling of camaraderie and cohesiveness among team members, but that doesn't make up for missing out on "Secret Santa" gift exchanges and other holiday festivities.
One solution for making remote workers feel appreciated and included in office holiday cheer is to add them to your gift list. If you haven't done so yet, it may not be too late! While some gifts may not reach your remote staff by Christmas, Chanukkah, or Kwanza, other gifts, such as subscriptions, memberships, and digital gift cards, can be delivered instantaneously. Expedited shipping, Overnight Express, and priority mail are also options for speeding up delivery.
Sometimes the most challenging part of the holiday season is choosing the right gift for employees – preferably, one that will be used and appreciated. Having a list of gift possibilities to refer to, such as the one below, can help streamline the process and make life a lot easier. 
The items listed here are affordable, useful, and practical, so they would most likely be appreciated by employees on your team. Almost all of the suggested gifts are appropriate for anybody, while others may need to be matched to your staff's interests, lifestyle, and dietary preferences.
Regardless of the gifts you choose, your remote staff will appreciate being remembered and acknowledged during the holidays. Keeping them in the loop is an ongoing process, but you can earn a lot of goodwill and loyalty by taking the time to send them a holiday gift. 
The Best Gifts for Employees Who Work from Home
If you're stumped about the perfect way to thank your remote employees for their hard work and dedication, this list of gifts for employees working from home may provide the inspiration you need.
Ergonomic Mouse Pad with Wrist Support: This is a simple, but useful product that everyone can use. It can provide comfort, wrist support, and relief from muscle strain.
Personalized Pen Set: If you're at a loss for what to give an employee for the holidays, a quality set of personalized pens are sure to be used and appreciated. It's the type of gift that would be used frequently and be a regular reminder of your thoughtfulness. 
Glass Dry-Erase Computer Pad: This is a handy glass dry-erase board that conveniently fits between a user's keyboard and computer screen. It's a unique and efficient way to write down reminders, takeaways, and goals.
Mini Coffee Maker: Everyone has a coffee maker in their kitchen, but do they have one within arm's reach of their desk? It's a great gift idea for all dedicated coffee drinkers on your staff.
Monthly Snack Subscription: Whether they prefer healthy snacks or decadent ones, your work-at-home staff will enjoy their monthly gift boxes of delicious foods you select for them. You can pick the snack selection that seems the most appropriate for each remote employee.
Memory Foam Seat Pillow: There are a variety of ergonomic seat cushions available online that can provide comfort, posture support, and back pain relief. The specialized pillow provides a welcome solution to the soreness that sitting at a desk for hours can produce.
Folding Wall Organizer: These units come in an array of different sizes, designs, and features and can be given as a useful and attractive gift. They provide a simple, yet efficient system for organizing correspondence, reports, documents, and supplies.
Digital Gift Cards: This option might be the ultimate choice for last-minute gift givers. You can choose from a wide variety of retail stores, subscription services, and restaurants, and have those digital gift cards delivered to your team members instantly. It's a versatile gift option, and the wide range of choices make it a customizable one.
Experience-Based Gifts: Many people believe that enriching experiences provide more enduring memories than material possessions. That's why experience-based gifts have special meaning to the recipient. Gifts worth considering in this category might include extra paid time off, massage certificates, and cooking lessons.
Gift Certificate to virtual exercise classes: If you have an employee who is an exercise enthusiast, this gift idea would be well received and appreciated. Since a lot of people do not have the time, inclination, or money for a gym membership, online exercise classes are often the ideal alternative.
E-Learning Subscription: If you have some insights into your staff's goals, challenges, and interests, a subscription to KnowledgeCity's Learning Library could be the perfect gift for a remote worker. 
For example, if they've expressed interest in developing their software skills, they may appreciate being given access to online courses in Microsoft Powerpoint, Excel, or Visio. Other tutorials are geared for employees interested in personal development, such as stress reduction, nutrition, and other aspects of wellness. 
Whether your staff would benefit from Photoshop courses or tutorials in financial budgeting, our Learning Library of over 25,000 tutorials offers personal and professional development resources for everyone on your list.
These suggested work-from-home gifts for employees can help make gift-giving easier, faster, and less stressful. It also increases the odds that the gifts will be used, enjoyed, and remembered. With the holidays being so hectic, having a list of practical gift ideas to choose from will save time, delays, and frustration. 
An added benefit of streamlining the gift selection process is that your valued remote employees will get their holiday gifts on time. Thoughtful gestures like Christmas gifts will convey the message that you recognize, notice, and appreciate their diligent work. This will help strengthen their team spirit, motivate them, and enhance feelings of engagement.
For more tips on effective management strategies, check out our online leadership training programs. We also invite you to download our free guide on how to improve workplace culture.
Subscribe to Our Newsletter
Join 80,000+ Fellow HR Professionals. Get expert recruiting and training tips straight
to your inbox, and become a better HR manager.