Just when you thought you had devised the perfect employee training program, along comes the next generation! "Generation Z," the group of people currently in their early to mid-twenties, has a unique set of learning habits and preferences. They also view the world through different eyes than millennials.
Also referred to as "Zoomers," Generation Z consists of people born between 1996 and 2010. If you're expecting just a trickle of applicants from this emerging demographic, then brace yourself. The consulting firm Bridgeworks reports that Gen Z consists of 65 million people who will be steadily making their way into the workforce over the next few years.
From a training perspective, your primary audiences will most likely fall under those two categories (Gen Z and millennials). A third demographic to consider, "Generation X," are typically more advanced in their careers and may have a different set of learning preferences than their younger counterparts. Employees in that group were born between 1965 and 1980.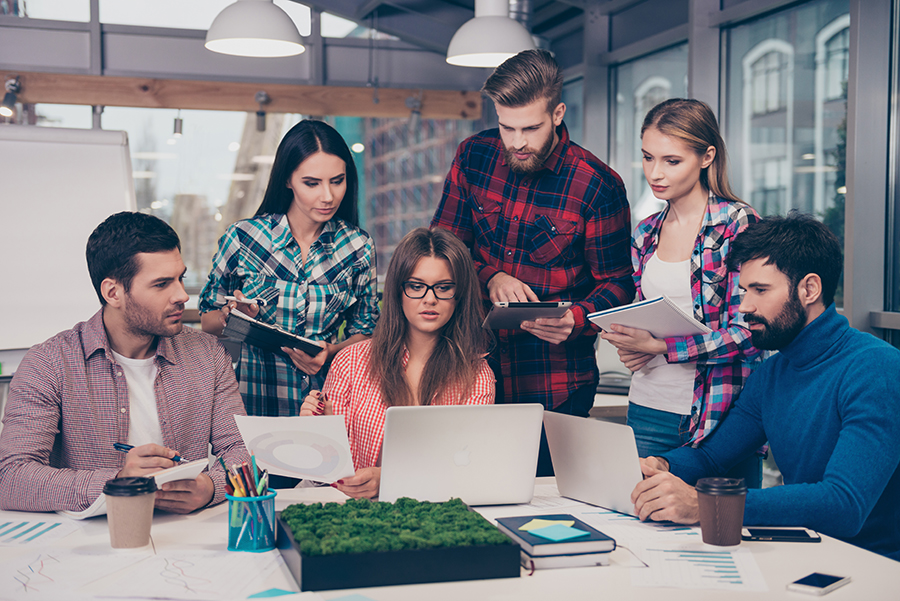 What Makes Gen Z Unique?
Among the characteristics that differentiate members of Gen Z from their predecessors is the fact that they're "digital natives with little or no memory of the world as it existed before smartphones." The Pew Research Center points out that Generation Z is more racially and ethnically diverse than previous generations. As Bridgeworks notes, "they're growing up on a literal cultural edge—they'll be the last generation with a Caucasian majority and have expanded views of diversity."
Since most Zoomers are accustomed to scrolling through countless Instagram posts, watching YouTube videos for hours, and sharing information via social media, they're not necessarily going to be captivated by static slide shows in training sessions and long-winded presentations. They often prefer information presented to them in "bite-size learning" modules. For a generation accustomed to absorbing news and trivia through captioned photos online, infographics, and compelling videos, it's more important than ever to use a multimedia, creative approach to employee training.
Using Video as a Training Resource
According to a survey by Ipsos, 80% of Gen Zers say they have watched YouTube videos to expand their knowledge and upgrade their skills. Many HR managers and training coordinators are taking note of this growing trend and work toward finding ways to incorporate YouTube into their training strategies. YouTube can be used in a variety of ways, including the following:
Trainers can produce and post their own relevant videos online, which can either be shown during training sessions or recommended as "required viewing" during the day or after business hours.
A large selection of Gen Z training videos is already available online and can be used to enhance or supplement classroom presentations or "homework" assignments.
Factor In Short Attention Spans
With a steady stream of college graduates entering the workforce every year, those in charge of training need to consider the digital viewing habits and learning preferences of Gen Z. This youngest workforce demographic is accustomed to viewing dozens of videos a day, switching from one social media platform to the next.
A few ideas for keeping participants interested and engaged in company training include offering interactive learning sessions, role playing, breaking up into discussion groups, and/or adopting a quiz show format.
Other approaches for boosting Gen Z training engagement are creating easy-to-scan content and avoiding anything that might be perceived as irrelevant filler material. Providing training participants with workshop summaries, need-to-know bullet points, and relevant website links can help reinforce key messages and improve knowledge retention. Those recaps and overviews can be emailed to participants, texted, posted on social media, or made available through your company intranet.
As a demographic, Generation Z embraces self-directed learning opportunities, being able to access information "on demand," and receiving customized training materials. Training strategies that cater to the technology habits and preferences of Gen Z include the use of computer games, virtual reality, interactive software, and immersive learning methods.
Combine In-Person and Online Learning
While face-to-face instruction is a highly desirable mode of training—especially if the presenter is well prepared and compelling—online training can and does complement, supplement, and reinforce the content that employers want to instill in trainees. Blocks of time during the workday can be designated for online or video training to give staff the opportunity to learn new skills and acquire valuable business knowledge.
Be Attuned to Your Diverse Audience
As diversity grows in the workplace, training programs must continually evolve to remain relatable to a variety of races, nationalities, and orientations. To reduce the possibility that anyone may feel disconnected or alienated from the course content, workshop leaders, or your company's mission, steps can be taken to acknowledge workplace diversity in course materials, videos, and workshop presenters.
Gen Z Training Tips and Resources
Keeping employees engaged and interested in training is an ongoing challenge for Human Resources and departmental managers. Fortunately, there are effective techniques and strategies you can use to keep staff members motivated, quality-conscious, and supportive of your company's mission.
KnowledgeCity offers a number of impactful online training programs in employee engagement covering important topics such as knowing your employees, using reward systems, distributing power and responsibility, understanding why people work, and what motivates them.
Another helpful resource focuses on vital HR skills and principles that provide a framework for hiring, training, and cultivating employee talent is Best Practices in Talent Management. This must-have training course is for organizations that want to implement the most effective methods of recruiting, onboarding, inboarding, retention, talent development, and succession planning.
For more information on how to implement a successful employee training program, download our whitepaper. It provides insights into why most training programs fail and how to avoid those pitfalls. Whether your objective is to provide a better training experience for Generation Z or to develop training programs for more experienced staff, this whitepaper will give you the valuable tips, strategies, and techniques you need for achieving successful outcomes.