As the COVD-19 pandemic begins to stabilize, organizations around the world are faced with the daunting task of reopening while keeping employees and customers safe at the same time.
Every organization should ensure the plan for reopening meets any local or federal guidance. The safety of employees and customers should be the top priority.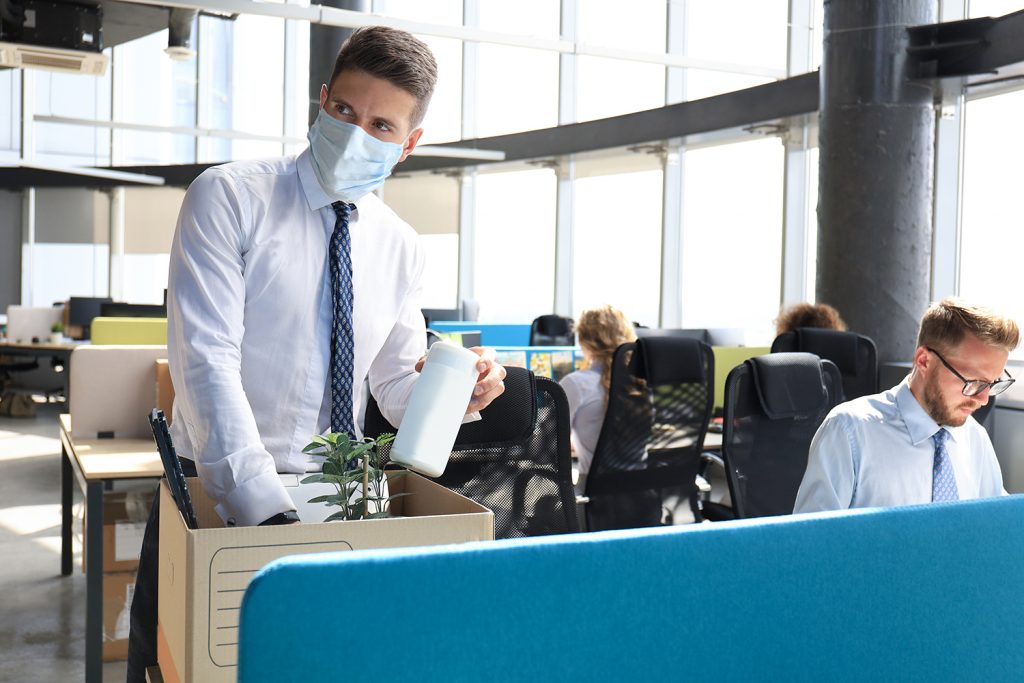 Building preparation
The first thing that should be done when preparing to reopen is to make sure the building is ready to go.
Organizations can begin by checking the building's core systems. Core systems include:
Fire and life-safety systems
Water systems
Mechanical systems, including HVAC systems
Elevators, escalators or other means of moving within the building
Organizations that rent an office in a larger office building should check with the building owner about these systems.
Cleaning is another important aspect of preparing the building for reopening. High-use areas should be identified and thoroughly cleaned. High-use areas and objects include:
Hallways
Restrooms
Gyms or fitness centers
Conference rooms
Doors and handles
Desks and equipment
Touch screens
All surfaces in the building should be disinfected using a government-approved disinfectant. Every individual who is responsible for cleaning should wear the proper personal protective equipment (PPE).
Organization preparation
The reopening plan should include the policies and procedures that will go into effect once the office reopens.
All of the changes that are made to the work environment should be communicated to the employees before they return to the office. This communication should be done frequently through various communication channels and include:
What employees should expect upon returning to the office
Explanation of the changes and new policies
Demonstrations of what employees can expect
Instructions on how to prepare for returning to the office
Suggestions for commuting to the office
Organizations should encourage employees to continue safe behavioral practices. These include:
Social distancing
Frequently washing hands
Wearing face coverings
Avoiding touching their eyes, nose and mouth
Staying home when sick
Regular cleaning and disinfecting of high-use objects and areas
Workplace preparation
Organizations also need to take the time to prepare the workplace for the return of employees. To begin with, organizations should clean and disinfect the office. This includes all work areas and breakrooms.
Organizations should do their best to encourage social distancing within the office. This can be done in several ways:
Develop a way to regularly count how many employees are in a specific area
Create a traffic flow plan that directs foot traffic in main areas
Place marks on the floor to encourage social distancing where lines may form
Increase the space between desks
Add desks to large areas, such as a conference room
Provide seating assignments
Reduce room capacity
Stop holding meetings in large meeting rooms
Forbid of the use of rooms that encourage large gatherings of people
Organizations should be sure whatever changes that are made to the workplace do not violate any local, state or federal building codes.
There should be a plan in place for containing any viruses that may enter the workplace. If an employee does start to experience symptoms, it is a good idea to have a quarantine room where they can go if needed. Also, designate one location for all deliveries to go to. All deliveries can be disinfected in this one location before being distributed throughout the office.
Entering the workplace
Employees should notice changes when they first enter the workplace. First, there should be a limited number of entrances for employees and guests to use. This may include closing certain entrances, as long as it does not violate any building codes.
There should also be hand sanitizer at all entrances for employees to use before getting too far into the workplace. Employees may also notice temperature screeners at all entrances along with signs explaining new policies and procedures. Signs can be helpful for both employees and guests.
Receptionists should receive training on how to safely interact with anyone entering the workplace. Other things organizations can do in entrance areas include:
Installing glass screens to separate receptionists and guests
Rearranging the reception area to prevent guests from leaning over the reception desk
Removing all touchscreens
Using disposable security stickers
Removing furniture from the reception area or rearrange it to promote social distancing
Providing PPE to guests
Inside the workplace
Once inside the workplace, employees should be reminded of good personal hygiene. This includes:
Covering mouths when coughing or sneezing
Turning away from people when coughing or sneezing
Frequent hand washing
Not borrowing other employees' phones, desks or other equipment
Regular housekeeping should be done around the office, especially in open work environments. Every employee should assist in cleaning and disinfecting high-touch surfaces and equipment. This can be as simple as wiping them with a disinfectant wipe before and after use. These high-touch surface and equipment can include:
Kitchen areas
Vending machines
Phones
Restrooms
Meeting rooms
Shared workplaces require a different set of considerations. These start with creating guidelines for safely sharing desks and workspaces. These should include how to properly disinfect them before and after use.
Employees in these workplaces should each have their own dedicated keyboard and mouse for computer use that is not shared with other employees.
Meetings should be limited to only those that are absolutely necessary. This can mean eliminating all face-to-face meetings with people from outside the organization. These meetings can be done virtually.
If a meeting does have to take place, limit the number of attendees. Ensure it takes place in a room large enough for social distancing to still be happening.
Once employees have returned, it's important for the organization to continue to communicate with them. This means continually training on the new workplace procedures and good workplace hygiene.
Conclusion
The process for reopening should be a collaborative effort. Organizations should listen to their employees and take into consideration what will make them feel safe. There is not one correct way to reopen an office. Every organization should evaluate how they operate and make decisions based on what is best for them.
Subscribe to Our Newsletter
Join 80,000+ Fellow HR Professionals. Get expert recruiting and training tips straight
to your inbox, and become a better HR manager.