How to Set Clear, Achievable Department Goals for 2023
With the new year—not to mention a new quarter—beginning, growth sits at the forefront of every company's mind. It's a time to not only think about goals, but about the ways in which goals are created and measured. Companies can't afford to just make a statement, throw down a few numbers that sound right, and set a date, then call everything a "goal". All that does is set employees up for failure due to a lack of structure and guidance. 
Many organizations take a SMART approach to goal-setting. This framework provides a streamlined way to create effective goals and metrics alike. SMART paints a clearer picture of expectations so workers know exactly what to do, though with sufficient flexibility to account for any unexpected factors that may influence progress.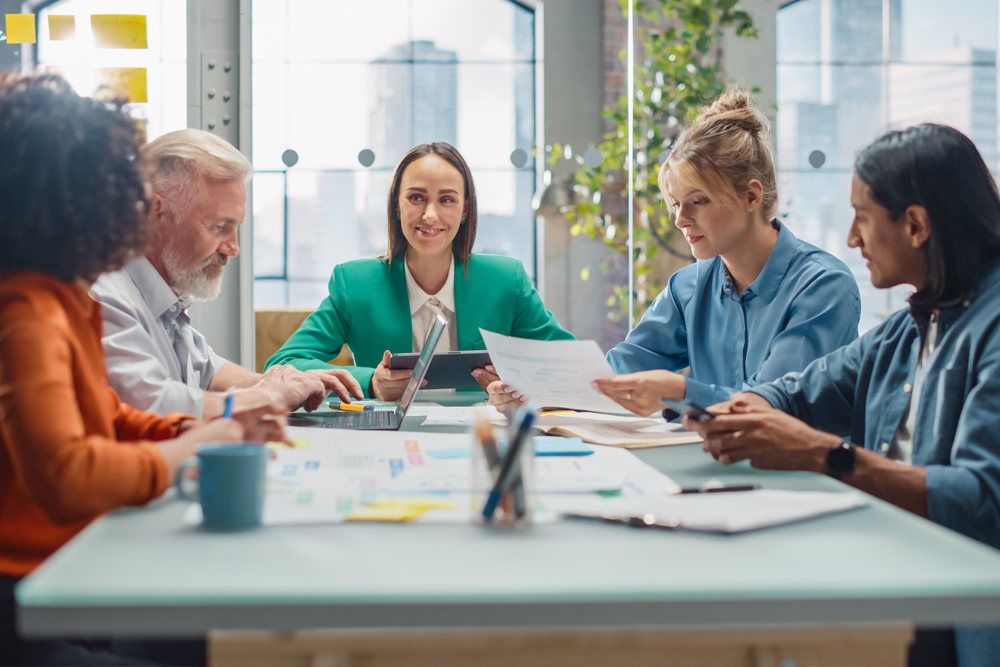 The SMART system consists of the following elements:
Specific:

Strong departmental objectives have strong definitions and leave no room for ambiguity regarding what departments and employees are expected to accomplish. This extends beyond the details within the goal itself, however, as everyone's role in the tasks at hand, the stakeholders, and who they answer to for what reason also need to be clearly laid out. 

Measurable:

Measurements are the nuts and bolts of goal-setting, providing a tangible method to assess both successes as well as areas of opportunity. Whether it be the number of customers that stop in a shop, stars on review sites, newsletter subscriptions, or a different metric entirely, measurements make it so much easier for employees to track the progress of their goals. 

Achievable:

About 57% of the American workforce is stressed out, according to a 2021

Gallup

poll, and unrealistic expectations stands as one of the major factors causing this anxiety. The strongest goals include employees in the setting process, because they're best equipped to understand their department's capabilities and resources. They also understand how to best adjust goals when challenges arise, such as the pandemic.

Relevant:

A company's resources are wasted on departmental goals that don't directly feed into overarching goals. In addition, successful organizations understand how to change with their industry's overarching trends and tailor their metrics for success around them. 

Time-bound:

Deadlines help keep employees on track, and it can also be beneficial to break larger goals into smaller goals with smaller due dates. It's also wise to ensure that time bindings are realistic and in line with what employees can actually deliver to prevent burnout and create a healthy work environment. 
SMART is designed to optimize a department's success and set workers up to achieve their goals at a comfortable clip under favorable conditions. Consider using the framework as a guide when crafting goals for 2023 to see how well it works for the company and its individual departments alike. It may very well prove a valuable resource come 2024.
How to Set Department Goals
Managers hoping to set effective department goals have to keep a lot of plates spinning in midair to ensure everything and everyone stays on task. Maintaining organization requires both the SMART system as well as careful coordination and strong communication with other departments. 
When it comes time to set goals and keep them moving forward, the following strategies should keep the operation running smoothly ahead:
Involve employees

: Workers appreciate having their feedback seriously considered when it comes to departmental decisions and goal-setting. Since they're the ones responsible for ensuring the company moves forward in its aims, it makes sense to tailor goals around what they know they can realistically produce given available resources.

Work with other departments

: No department operates in a vacuum. Effective managers know to discuss their goals with other company leadership to make sure there are no redundancies or other issues before finalizing them. Even better, departments may find ways to collaborate and further their unique goals simultaneously. 

Dovetail department goals with overarching company goals

: In addition to finding ways to operate in tandem with other departments, managers need to make a concerted effort to understand how their aims also align with the company's. This helps ensure approval when asking for additional resources, including personnel, as well as reducing the amount of wasted time, money, and supplies.

Break goals down into smaller goals

: Incrementalism makes the tasks at hand seem much more manageable, allowing employees to stay focused and not overwork themselves. Similarly, tracking the milestones in smaller goals along the way provides an important morale boost. Workers appreciate knowing that their efforts yield results along the way rather than waiting for the final numbers months or years down the line. 

Schedule regular check-ins

: Managers should meet with their employees individually and as a department on a routine basis to check on progress and see if they need any additional resources, support, or flexibility. Regular check-ins address challenges before they grow too unwieldy as well. 

Reward employees

: After all, they're the reason why the goals were met in the first place. Healthy workplaces make sure that every worker who contributes to departmental and company success receives the recognition they deserve for meeting—if not exceeding—expectations.
Understanding how to set department goals is just as important as the goals themselves. Managers obviously must avoid micromanaging, but still need to be proactive in offering support to the employees under their care and having progress information on hand for their own supervisors. 
5 Department Goals and Objectives Examples
Newer managers who have yet to begin organizing departmental objectives may benefit from understanding what common department goals look like. Despite everything that goes into knowing how to set department goals, the task isn't as daunting as it initially appears. 
Some department goals and objectives examples include the following:
An animal shelter may want to adopt out 10 puppies at an all-day event hosted by a local school.

A public pool may want to have 50 kids sign up for swimming lessons before summer vacation officially begins.

A spa may want to sell 100 couples massage packages during their Valentine's Day special.

A new health tracking app may want 1,000 downloads of the unpaid version within the first two weeks of launch.

An online news outlet may want to sell 50 ad spaces to national brands before a major election cycle brings in additional visitors.
As an exercise, take some time to evaluate the following questions regarding these examples:
What subtasks might be created from these main tasks?

Which employees should be responsible for each subtask?

Who are the key stakeholders here? 

What challenges might arise along the way? How might they be solved?

How do these departmental goals align with the company's overarching goals? With which other departments might they collaborate?
Sometimes reverse engineering other departmental objectives can shed light on effective goal-setting strategies. 
Next Steps
No matter a manager's experience level, KnowledgeCity's Leadership and Management Training Program encompasses everything company leadership needs to know to put their workers on gratifying paths to success. Our courses Setting Organizational Goals and Achieving Goals with Your Team are similarly designed to help managers work smart and within SMART. 
If you're an up-and-coming manager hoping to get the year started off right and motivate your team to meet (and perhaps exceed) their departmental objectives, we encourage you to download our free ebook What Newly Promoted Managers Need To Succeed. There you'll find a comprehensive overview of what characteristics, behaviors, and strategies all make for an effective, efficient leader.