As technology continues to evolve more rapidly than human beings, the number of workers who are familiar with the technology gets smaller and smaller. When most people enter the workforce, even if they are tech savvy, they often struggle to stay current with technological advances.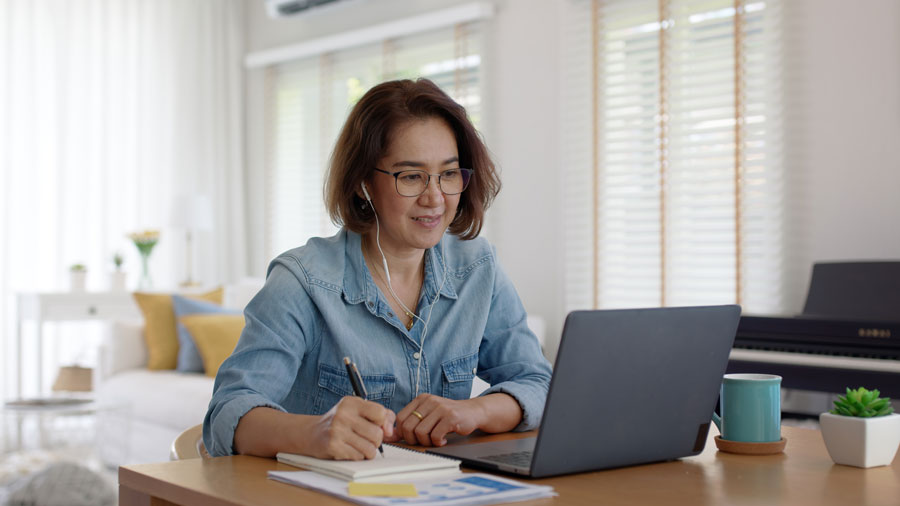 Things like web-based workplace communications, cloud computing, and even simply being able to complete all of your tasks from home are normal for individuals who recently graduated college, but some of them may be completely foreign to those who have been in the workplace for 10-plus years (or even less).
Of course, these experienced workers have a decade of work-related knowledge that college graduates lack. Rather than making the difficult decision of sacrificing experience for modern tech savviness, or vice versa, more and more companies are looking to upskill their workforce.
What is Upskilling?
As the name suggests, upskilling is adding new skills that can help an individual perform better as a teammate and as a person in their life away from work. Technically, it can relate to any skill development, but in the modern workplace it relates directly to technological understanding and capabilities.
One of the few silver linings of the COVID-19 pandemic was a more-rapid-than-normal increase in technology related to remote work, which accelerated companies' realization that employees can work effectively and productively from home. With things like Zoom and web-based project management programs like Trello and Asana becoming staples overnight, rapid upskilling was needed to ensure employees were prepared to make the most of their remote work setting.
Somewhat surprising to some, older workers actually
have adapted better to the remote office
than younger ones once they were trained on how to properly utilize the relevant technology. Furthermore, more than 70% of employees sent home during the pandemic said they felt more productive from their remote work spaces, and an even higher percentage reported being happier.
This realization of improved and expanded worker capabilities as a result of tech training wasn't the first indication that upskilling leads to a more productive workforce, but it was certainly an emphatic one pointing to and driving upskilling across the workplace training paradigm.
Post pandemic, upskilling is expected to become a regular (and nearly constant in some workplaces) part of company training. Now, let's look at how to best upskill your team.
Upskilling Questions to Ask
Every business runs differently, and determining where your team members need the most training is an important first step in delivering quality online learning and enabling them to maximize their workplace potential through technology. Here are four questions to ask yourself and your team to determine where your upskilling efforts will have the most impact:
1. What will make my employees happier?
Studies have shown that happy employees are generally better-performing employees and, as mentioned above, almost 70% of employees said they were happier working from home. With those two things in mind, training your employees to be at their best from the home office is, for most teams, a clear business win-win in which happiness and employee capabilities both increase.
Of course, the value of upskilling isn't limited to tools and technologies related to remote work, There are many other areas where you can upskill employees, such as team productivity and morale. For example, more than 40% of older workers admit to feeling nervous for being less tech-savvy than their younger counterparts, so virtually any level of upskilling will boost their confidence and contentedness in their jobs.
2. Where do I want to see greater tech proficiency in my team and business?
At the end of the day, your team is your team, and it has a job to do. Determining areas where your team needs to be more proficient is important for motivation and ensuring your team is equipped to realize your overall vision for it and the business as a whole.
These could be things as simple as business email acumen, or the ability to analyze large quantities of data in a short period of time (a lot easier than it sounds).
3. What will make my employees shine, internally and externally?
A certain level of technological savvy is required for, and relevant to, your business. But a lot of the tech-related skills your team utilizes for work can also improve their lives outside the office. Even things like intelligent social media use can benefit both the business and its employees who use those platforms outside the office.
4. Will this particular training have longevity?
Upskilling is destined to become a foundation of employees training due to the increasing speed of technological advancements. However, some training courses may be impractical depending on what's on the horizon. When determining what technologically related areas you'd like your team to expand upon, it's important to have a sense of what trends are coming down the pike related to any technology critical to your business. For instance, if you're planning on training employees in Google Analytics, be sure Google isn't planning a complete overhaul of it analytics program or introducing a new version to replace it.
Try to gear your upskilling efforts toward things that you expect to be as relevant in a year as they are today, which can help avoid training your teams on tech platforms that may be obsolete a few months later.
Common Focal Points for Upskilling
Here is a look at several key areas of technology that, with the right training, can save your team countless hours and your business lots of money:
1.Digital Communication
Each style of communication (email, phone, video conference, etc.) has a slightly different set of unwritten rules to follow in order to remain professional and constructive. The first step in ensuring your team knows how to communicate respectfully and effectively across multiple mediums is by ensuring they know all the functionalities of those mediums.
Training on Zoom capabilities is upskilling, as is training on things as simple as keyboard shortcuts on email services, Additionally, most companies want to maintain an overall voice, and you can touch on that during digital communication training, as well. Any training that can increase communication, speed and efficiency is training worth looking at.
2.Cloud Operations
Most people know "the cloud" exists, but not all know what that means or why it is important for the success of remote business. Teaching your team how to properly utilize cloud storage and how to complete joint tasks from thousands of miles apart is a must if you're hoping to continue to coordinate remote workers. There are also certain security measures that need to be taught and taken when utilizing cloud operations, especially given how many financial institutions and major corporations are now storing valuable information in the cloud. Information security and training in secure cloud storage are quickly becoming necessary training for employees involved in information security and storage.
3.Machine Learning/Data Analysis
Data analysts are in high demand, but an expanding menu of data analytics training resources are becoming more widely available and accessible online to meet the growing demand. Data analytics is an upskill that, if possessed by an entire team, can greatly accelerate productivity and be a competitive differentiator. Training on how to find, parse, and utilize data will only increase as an in-demand skill set that can also set employees off in the consideration for open positions or promotions.
4.Maintaining a Growth Mindset
Though not technology-related, per se, a growth mindset is very important when being trained on a near-constant basis, and can be an important contributor in upskilling teams. The growth mindset is, in short, a mindset that is always open to learning. By teaching your team to have a growth mindset, they won't feel poorly for not knowing a certain skill, but will simply view their lack of knowledge as an opportunity to become a better employee. And the growth mindset extends far beyond the office walls and is something that can help people improve parts of their lives.
"Change is a good thing" is the nutshell definition of a growth mindset. With technology changing by the minute, helping your team view that as a positive can help them want to learn, grow, and upskill.
Ready to Upskill Your Team?
This list is certainly not exhaustive, and there are near-countless ways to upskill your team. Luckily, training on many of them can be found right here at KnowledgeCity.
To learn more about certain skills and how to increase your team's proficiency in them, visit our Train My Team page.