ADA compliance training in 2019 is going to continue increasing focus on inclusion and accessibility. When it comes to ensuring ADA compliance, having proper training is paramount to ensuring that your organization is not only inclusive in the workplace but outside of it as well, making it easy to attract and retain new customers by ensuring greater accessibility, that proper protocols are followed and ADA-relevant assistance is provided where needed.
But not all ADA compliant training is by any means equal. Here are three major things to look for when developing or revamping your ADA compliance training initiatives.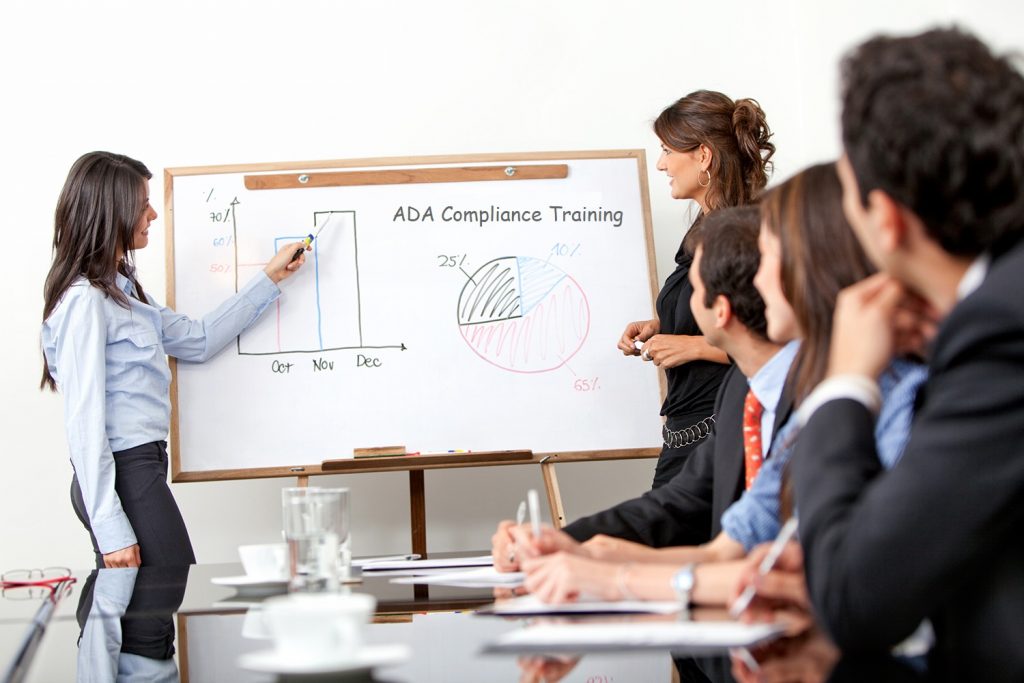 3 Best Practices for ADA Compliance Training in 2019
1. Clear ADA Compliance Training and Policies
ADA compliance training needs to include how to create and implement proper ADA processes and policies so that managers and staff alike benefit from not only knowing the steps but actually following them. This also includes putting policies in writing, such as in an employee handbook. Consequently, in the event of litigation, you can show that you made and offered reasonable accommodation to employees and/or the public.
This includes the crucial point that the company will not retaliate against the employee for requesting reasonable accommodations. Having this statement and the process for requesting accommodation in writing shows that the organization recognizes the importance of proper ADA compliance. It also provides a process for allowing the employee to take the next step accordingly. Employees, managers and supervisors also need to have a clear understanding of the reasonable accommodation process to ensure that everyone is treated fairly throughout and understand what the company can and cannot provide.
2. Maintain Flexibility
Another important facet of ADA compliance training is an emphasis on the company or organization to maintain flexibility. Even if you have well-honed processes in place, sticking rigidly to prior methods may do more harm than good. Employees who need specific accommodations may require adjustments that differ from the existing processes. But, depending on the situation, accommodating could be the better business decision. So, employers must be open to adapting in this regard.
Remaining flexible for specific requests that initially appear like hardships can help retain talented employees that boost your organization's productivity, morale and performance. Also, remaining flexible when it comes to accommodating the public makes your organization accessible for more people and promotes a positive brand image that further attracts consumers to your organization.
The best ADA compliance training helps companies discover more options to consider in reviewing existing processes and procedures. This allows for the possibility of a more inclusive and welcoming workplace. This also helps keep a mindset of continual improvement for a business with an ever stronger company culture and broader consumer base.
3. Understanding the Interactive Process
An essential component of any ADA compliance training program needs to include information on the interactive process. The point where an ADA-compliance situation is triggered also begins the interactive process. This is the process where employees request accommodation. It is essential that supervisors understand the importance of acting in line with ADA protocols. Furthermore, they also need to make sure to document the process thoroughly. This helps guarantee the organization is doing everything possible to allow the employee to perform up to expectations.
Next Steps
This often involves HR working along with various other departments, depending on the specific situation. ADA compliance training needs to provide clear guidance on how departments can work together to reach optimal resolutions. However, many employers have faced extensive penalties and fees for letting these issues slip through the cracks. By having proper ADA compliance training, you can avoid litigious situations and engender a more focused, welcoming and accommodating workplace.